So it's been awhile, and I feel badly about that, but things haven't been so great and I've been taking the ostrich approach to life meaning I basically moved to my sister's for a few weeks. The work they've been doing on our building made life here unbearable (the drilling noise was off the charts) and absolutely NO ONE is coming to see our house. Forget making offers, no one comes to see it even. At all. Which is super, super depressing. But when I'm not here I don't think about how in a month we'll have to pay two mortgages and I'll basically be eating mac & cheese for the foreseeable future. I know that things could be much, much worse for us and I am thankful every day that we can survive in this situation (although Meli might want to think twice about college) but still it's very scary and my stomach is in knots the minute I pull up to our parking space.
To combat these feelings of dread, I've been knitting. A lot. And I even have proof for you!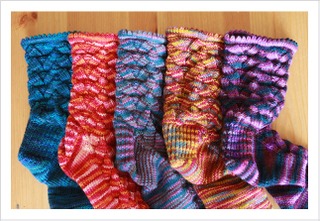 The Great Socks That Rock Monkey Experiment of 2009
L to R: My Blue Heaven, Firebird, Love In Idleness, G Rocks and Never On Sunday
Yup. Five Monkey Socks. The Love In Idleness one I started a little while ago but was unsure of it and then I went on this jag where I'd cast on and start a sock and decide the colorway wasn't working the way I wanted. Then somehow I had the idea that when I hit on a color that was good I'd put it aside until I found another color I liked and I'd start a kind of assembly line. I actually have a sixth sock started somewhere but I lost it (again – I keep losing this sock!) So once I had the five socks on the needles I decided that I would knit the cuff on one and then stop and move onto the next color. To knit the cuff, I do six repeats of the pattern. Once I was finished all five cuffs, I started doing the heel flap. (Basically, I didn't go any further because I had to consult the pattern to remember the math on turning the heel. It had been awhile.) Heel flaps done. Check. And then I picked up a sock – it was the Love In Idleness one – and turned the heel. Then I knit the gusset. And then I was all like oh my god I've knit the gusset the sock is practically finished! So that's what I did. I finished the sock.
Then I became obsessed. I couldn't stop knitting and finishing socks. Every time I finished a sock I immediately wove in the ends and then cast on for the second sock. I didn't do the whole picot cuff, just cast on and knit a row or two. But the needles are full and that's what counts.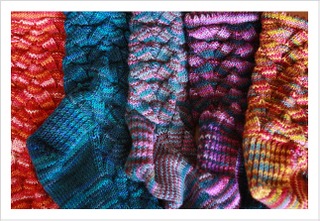 Now that I've got five new socks, I'm ready to start all over again. My plan now is to knit the picot edge and one repeat before moving on to the next color and finishing the cuff. Rinse and repeat. I'm not so obsessed anymore, but Meli is getting pretty good at giving me a little bit of time during the day while she plays on her own, so I'm making sure a sock is nearby. And no, I'm not sick of monkey socks. This pattern is absolutely my stockinette sock. Way more than the Jaywalker even (does anyone even remember Jaywalkers anymore?! How crazy were those days!) I have at least three more monkeys in mind. They fit great, are easy to knit, and look fantastic with lots of colorways. What's not to love?