Thank you all so much for your eloquent comments and a wonderful free exchange of ideas. I'm so glad to hear from all of you – whether you regularly comment here or not. Please know that I'm working my way through every comment. If you don't hear from me – I READ WHAT YOU HAD TO SAY and took your words to heart. I have to admit, when I pushed publish yesterday my heart sunk a bit at the earnestness of my post. I'm don't like to be earnest – it's uncomfortable and embarrassing to say the least – plus I'm not sure it makes good writing (I put it just below sentimentality.) But I don't think I'm all that earnest on a regular basis and sometimes you just have to get stuff off your chest.
I really don't get that much negative feedback – constructive or otherwise – compared to others. And I've, fortunately, never really been flamed here or anywhere else, that I know of (and please don't feel you need to tell me about if I have been.) But I have friends who have been – and frankly – I don't think that behavior is appropriate whether you're my friend or not. It's just not good blogging.
I would like to say that I welcome CONSTRUCTIVE criticism here, on this blog. And please don't feel that if you have a contrary opinion from me, or anyone else that reads here, that you aren't welcome to express it. If something should happen in the comments because of your comment, you can rest assured it will be addressed by me in the manner I deem appropriate – that may be a further blog post about my feelings, or the deletion of comments. Thank you again, as always, for taking the time to read my blog.
Whew! Now let's get back to what's REALLY important! The miters!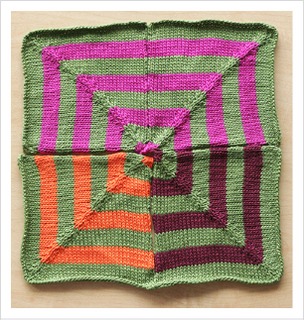 Square #18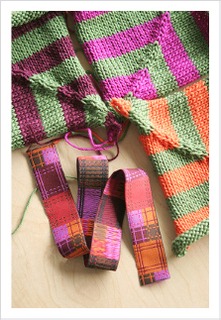 This square is based on a ribbon sample I bought a while back. I like the squares and colors and I think it's a good match for the blanket. I've got three more squares planned out – the next one I started is based on one of my photographs and I'm really excited about it. It's kind of neutral so I hope it works out. I'm off AGAIN for the weekend, but I hope to have more miters on Tuesday. My goal is an even 20.
Have a great weekend!