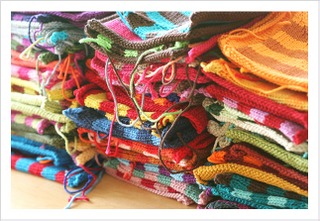 – 120 miters, 30 squares, 85 different colors of yarn
– The first miter was knit on March 15, 2007. The last miter was knit on April 29, 2007. Forty-six days. 2.6 miters per day.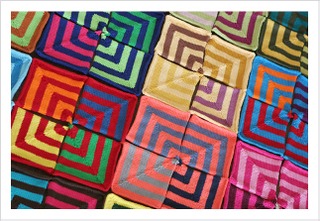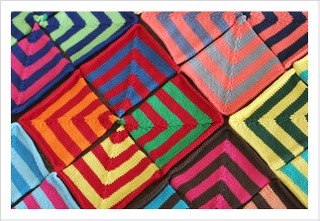 – Each miter starts with 72 stitches. Knit with US #6 needles.
– Four main miters, one background miter from a skein of Tahki Cotton Classic.
– Only one color used two skeins. I used it to make two background colors, and then wanted to use it for a main color. I needed to break into a second skein.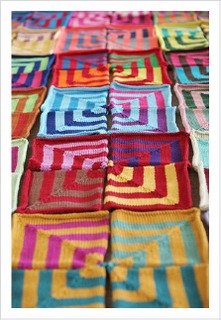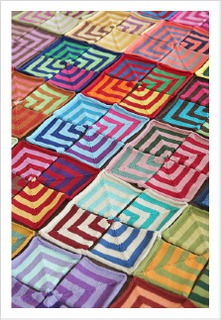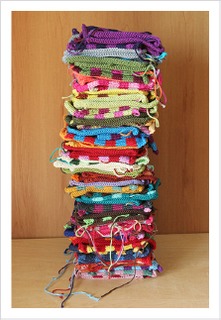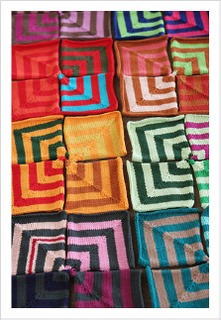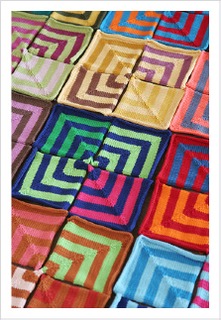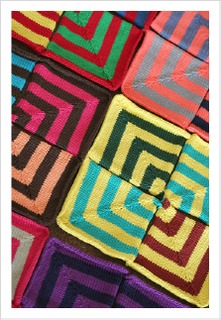 This project has completely consumed me. Knitting these miters was an extreme labor of love and I'm so glad I got to do it. All of the squares sat on my floor for at least a week off and on – I would leave them out there and keep adding squares to the mix as they came off the needles. Yesterday I decided on a final layout. I photographed it and lifted the squares off the floor and mixed them all up. I think I sort of want to erase the layout from my mind while I'm seaming the squares. I will be referring to the photographs for the seaming, but it won't all be together. Plus we need room to walk around the house.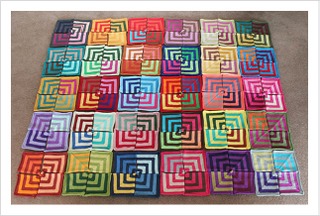 Basically I had the squares down on the floor and every now and again I'd move some around. Then I'd stand on the arm of the sofa overlooking the squares and squint my eyes. (Quite the scene, I must say.) Yesterday I was DETERMINED to get this all down – don't ask me why but it became incredibly important for me to say THIS IS IT. I would move squares around and take a picture. Then I'd put the picture up on the computer and change it to black & white. I wanted there to be a somewhat even distribution of value throughout the blanket. Then I'd go back and move stuff around – take a picture – look at it in b&w – move more squares and on and on until I got what I wanted.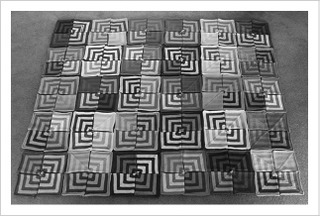 When I saw this combination up on the screen – I knew that this was it. I stood back in the doorway – away from the computer and looked at it and it was good.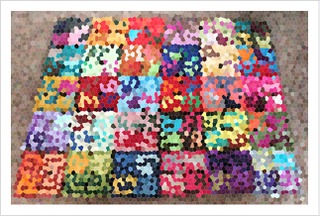 I leave you with another bunch of pictures, because that's what I do.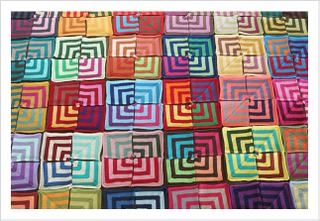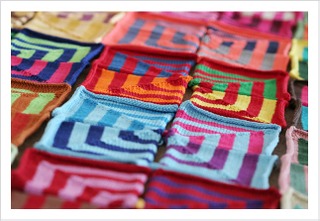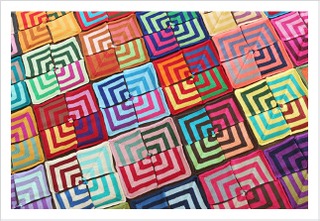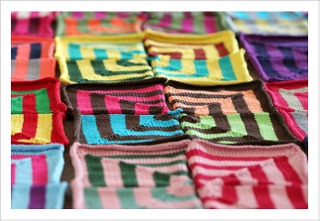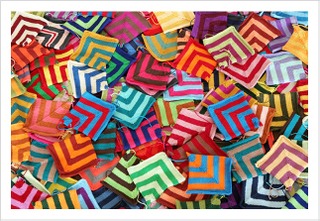 I don't think I'll be blogging about the miters for awhile – it's time to put the project to rest a bit and move on to other things. My mind can't take it anymore. I don't know when I'm going to start seaming – maybe my next free weekend – which doesn't come for awhile. Or maybe I'll start seaming and it will overtake me and I'll become obsessed all over again. Have no fear – this blanket will be seamed. A border will be knit. This project will be finished.
Thank you so much for your enthusiasm for this project. It means so much to me that I can share my madness.