Look at me! Look what I've been doing!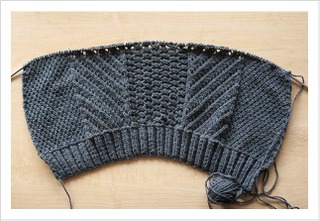 KNITTING!!!!
Can you believe it?! Somehow or other I was able to knit a bunch this weekend. This picture doesn't do the time I put in justice because unfortunately there was ripping and reknitting – but I don't even mind that because I'm just so happy to be KNITTING! I'm loving the yarn, the pattern, the progress! Knitting on size 9 needles is GREAT for progress!
I love how the different patterns match up together and these pictures really show the true color of the yarn – which I love. I LOVE IT! I LOVE KNITTING!