Not only is today my beloved's birthday, but it's ONE MILLION DEGREES OUTSIDE! What better way to celebrate than a new pair of socks!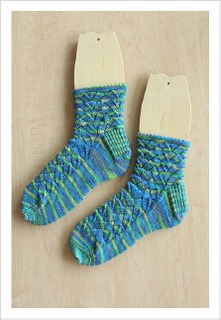 At least they're minis!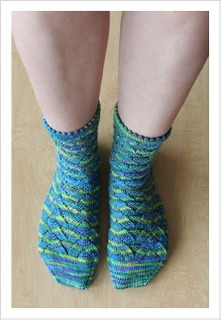 Yes, my friends, it's another pair of monkeys off the needles. As I previously mentioned, this yarn is STR Seastone – a discontinued colorway in the OLD (325 yds) put up. PERFECT for mini-monkeys!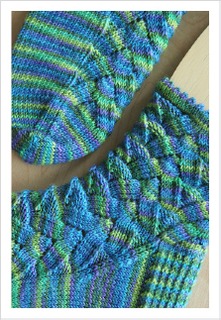 This is my FIFTH completed pair of monkey socks and as such, I thought a bit of a monkey parade was in order: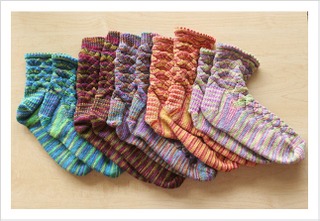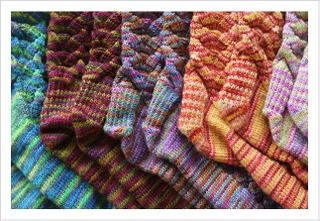 From left to right you've got: minimonkeys in STR Seastone, regular monkeys in STR Rare Gems; regular monkeys in STR Dutch Canyon; picot monkeys in STR Chicabiddy, and minimonkeys in STR Watermelon Tourmaline. I am in NO WAY FINISHED with monkeys! I will be choosing a new color to cast on today! And I can guarantee two things – no THREE things. 1) They will be knit with STR. 2) They will have a Picot Edge. And 3) They will be regular size. You'll just have to wait and see what color I pick. SO MANY to choose from…. Hmmmm.
Thanks for all the anniversary wishes. Poor Georgie's getting a bum deal on both the anniversary AND his birthday, as I'm still not up to par. I'll make it up to him though – don't you worry. And he's planning on getting himself a new toy so that should ease things a bit.
Two things I want to put out there – Have you seen Norma's NEW (old) cause? The Red Scarf Project has taken on a whole new dimension – one that I can get on board with for sure. Don't feel like knitting a scarf (my most dreaded project honestly) then you can GIVE MONEY instead! Check it out!
Also, Eve needs editors for upcoming issues of YARNIVAL! It's not that hard and you get great exposure to all kinds of new and interesting blogs. Plus it's a great way to give your OWN blog exposure! Come on! What are you waiting for?