First off, let me just say THANK YOU for all the wonderful birthday wishes and belly compliments! I so appreciate you all! THANK YOU AND HAPPY NEW YEAR!
Now, can we do it over?
Hindsight is always 20/20 and as much as I LOVE being with the rugrats and watching the kids with G and just loving on them and having them love my baby so much, before s/he is even here – it wasn't the best idea to watch them on New Year's Eve. It was completely MY idea, so I have no one to blame for myself. It just didn't feel like my birthday. My sister and her husband spent the night out, so we had the kids for the whole night. And it was long.
The next morning I woke up and promptly threw up.
There is no good reason for puking on your birthday UNLESS you've done something so fun, so excessive, it warrants that kind of behavior. I did nothing but have the audacity to get pregnant. Silly me.
The 1st was long and while it was lovely to be with my family and I got to eat good food (read bagels and cream cheese and baked salmon) and I had my prerequisite birthday cake (Carvel Ice Cream Cake – there is no substitute) I was exhausted and felt kind of ill all day. There were tears on my birthday. There was no knitting.
Today hasn't been much better, honestly. I puked. Again. That's two days in a row. I haven't puked two days in a row in about six weeks. I am NOT happy. Honestly, I thought I was done with it. Yeah, sure, occasionally, but I feel like I'm going back to the beginning and somehow I feel like I lost all my coping skills. Or rather they shifted so I can cope with all the other stuff. Ann told me I shouldn't feel sorry for myself because there's nothing I can do about it and BUCK UP LIL' CAMPER. (I told her at least I didn't call her when I was crying – I called my sister – who was very sympathetic. She said you don't call me for sympathy and she's right.) ETA: Apparently Ann has taken great umbrage at the fact that I took poetic license in writing that she said, "BUCK UP LIL' CAMPER." She didn't say those words out loud, even though that might be what I heard.
Anyway. That's where I'm at. I'd like to do it over please. Tonight G and I are going out to dinner. I hope I can get through it. Isn't that pathetic?
There has been some good stuff too! I completely freaked out last weekend over the whole baby thing and promptly leapt into action. We've ordered furniture for the baby's room and I may have even registered! How crazy is that? It did make me feel a lot better about things though. Now the great clean-up must begin.
And there's been knitting! Lots of knitting! (I should note that I feel kind of like a fraud posting these pictures after Jen and La so generously awarded me The Picture Perfect Award. Seriously – I can do much better!)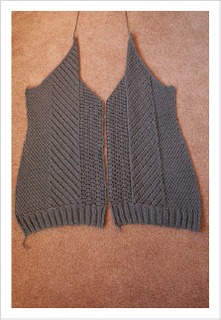 Oblique now has two fronts! I finished them Sunday night and I'm very happy with how they turned out. It ends up, if you take good notes when you're knitting the back and making changes, the fronts go very well. Here's a picture of the fronts laid out over the back.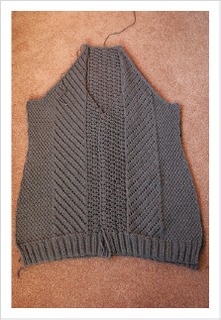 And here's a pattern close-up, just for the hell of it.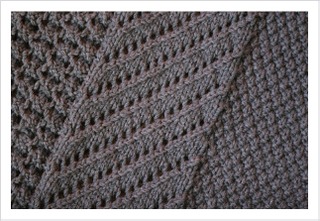 Still loving the yarn, the pattern, everything. I want it done NOW! I'm going to cast on for the sleeves today hopefully and I'm going to try a mod I read about on Ravelry. ThatLaurie, who knit a GORGEOUS Oblique in her own handspun, cast on the sleeves with a provisional cast on and started right away with the pattern instead of the big cuffs called for. I'm going to do the same. Basically, I'm knitting a larger size and while I like my sleeves long, I don't think they'll need to be THAT long. So I'll knit them and add some ribbing later as warranted. Now to find my favorite provisional cast on. I can never remember which one I like best.
I didn't really make any resolutions this year – other than enduring the end of my pregnancy with as much grace as I can, birthing a beautiful baby, and beginning the journey of raising a wonderful human being – but I do intend to blog on a more regular basis, whether I have knitting to show or not. Now that I'm not working like a maniac the blog is an excellent outlet for me and I miss the day to day of it. So hopefully you won't get sick of me too fast.
Thanks for reading. And thanks again for thinking of me yesterday.
L, C