Geez! I'm just posting later and later these days. I'm sorry. I would've posted earlier today but we had an Internet blip – you know the kind. Where you call your provider and they hang up on you because EVERYONE is calling to bitch them out. All is well though and I'm just so glad because I have a finished pair of socks to show you!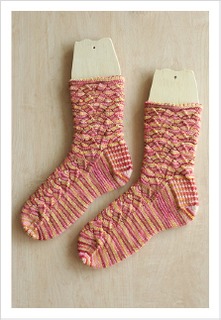 New monkeys! Yup, that's right, monkey socks. Bored yet? I'm not! I love these socks! They might just be my favorite pair of Monkeys!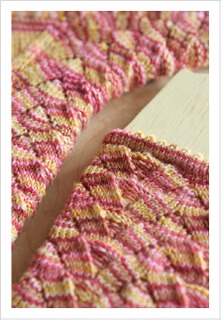 The yarn is Lightweight Socks That Rock in the Chickabiddy colorway. Tina told me that this yarn will be available in the Fall on the website – so if you like it, wait for it! I LOVE IT! It's the perfect combination of pinks and browns and yellows and oranges and reds. PERFECT! And the picot, well, the picot is ALWAYS perfect. I knit these on two 2.5mm Addi Turbo circulars (US #1s.)
I was asked the other day my secret to getting my STR socks to rock so well – meaning – no obvious pooling. The secret is the number of stitches on the needles, needle size, pattern and I suspect a bit of kismet as well.
The best way to illustrate this is with a picture of a knee high I knit last year using ONE SKEIN of lightweight STR.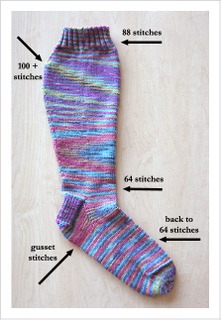 Click on it for a bigger version to open in a separate window. See that knee high – I used ONE SKEIN throughout. Never changed yarn ever – but look how it changes? And I never changed needles either – Addi Turbo US 1 – 2.5 mm – circular needles. The only thing that changed was the stitch count. I started off with (I think) 88 stitches, increased up to over 100 then decreased down all the way to 64 stitches, which is my personal sock stitch number. (You know – the pattern that you figure out after you've made a bunch of socks that you stick with – favorite toe, favorite heel, stitch count.) There's pooling around the gusset because I added stitches, but then look at the pretty stripes on the foot – that's the magic number 64.
Now that's to say it's MY magic number. I don't know what your magic number is. Maybe, honestly, you don't have one with Socks That Rock. I've never knit socks with Mediumweight STR (or Heavyweight STR for that matter) so I can ONLY speak to Lightweight STR. This is MY preferred sock yarn. It works for me. Once you add a pattern into the mix, it might change everything. Different patterns use different amounts of yarn and they may mess with your magic. If you love the pattern and the yarn doesn't work, try a new yarn. If you love the yarn and the pattern's not working, try a new pattern.
One other thing I've learned – with Monkeys at least – they look so much better with a REALLY variegated yarn. Lots of color changes. The STR I've used so far have had a least four different color changes. Anything less and they're going to look really stripey. Unless you use a solid or semi-solid – that should look great too.
There are a MILLION sock yarns out there – new ones everyday from what I can see on the net. Find your yarn – your number – your passion. It's out there. Just look for it!