Oh my! Santa brought me another present yesterday! I must have been a VERY good girl this year!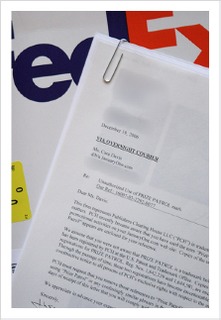 Yesterday I received a FedEx (almost didn't open it because I thought it was a work thing for G) and inside was a letter from some fancy schmancy lawyers in our nation's capital telling me I made a big big boo boo on my blog. Apparently I put two completely innocent words together in a blog title and once these words were together: KABOOOM! I set off alarms all around the trademark world.
Not to worry, I fixed the offensive pairing and will offend no more. I learned my lesson. You won't see Kle*nex here. Or X*rox. Or M*c. Or Ap*le. Or any other word that's going to get some lawyers on my ass. No siree bob.
The kind folks down there in Washington want me to send them a letter back letting them know I've complied with their demands. My good friend Ann drafted it out for me and I found my best purple pen to write it: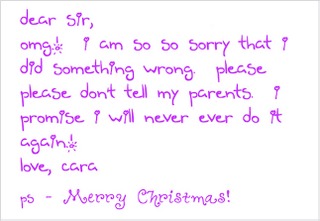 Seriously, though, I understand that according to the strict letter of the law I MAY have done wrong. MAYBE. The letter states I used the words together in a promotional capacity, which I think is arguable since I never made a cent on what I was "promoting" and in the end helped raise $19,000 for charity. That's neither here nor there. I immediately removed the words from my blog as per their request. And I'll be sending them a real letter stating as such. Honestly, this was a nice wake up call. I'm not sure I realized how important the blog is to me until it was "threatened." All in all, I'm just glad I've made some kid super happy on Xmas by helping their lawyer parent bill out $1000 to send a letter to ME, a completely unassuming KNITBLOGGER. (They printed out and sent me a copy of the blog post where I made my fatal mistake – did they bother to read it? I really have to wonder….)
And my Solstice present to you is a hearty laugh. Because I'll be guffawing over this one for QUITE a while and I hope you will too! THANK YOU PCH! And Merry Christmas one and all!