May marks the start of a new Project Spectrum, a create-a-long near and dear to my heart. It also happens to be the absolutely perfect time to talk about my new blanket project which I finally started after planning it forever!
I've renamed my Mitered Crosses Blanket project SPECTRUM CROSSES, in honor of Project Spectrum. I have been busy gathering yarns and mixing and matching colors for weeks and it's all together. I started my first square the other day and I'm off to a wonderful start.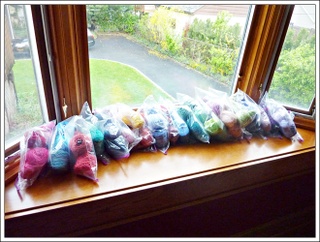 My plan uses almost all of the Tahki Cotton Classic leftovers from Miter Madness, plus a few new colors that I had in the stash and didn't use the first time and some new colors I bought to round out my color choices. Each square will have a different color for each miter/arm of the cross and all the colors in a square will be similar to each other.
There will be 25 squares in all and 23 of those squares will be the colors of the rainbow starting with all pinks and ending with some vibrant red violets. The two remaining squares will each be ROY G BIV. The blanket will "start" at the lower left corner with a square featuring a bright red, orange, yellow and green. The blanket will then move in the colors of the rainbow row to row until the final square, located at the top right corner, which will be made up of a bright blue, indigo, violet and red violet.
In order to mix things up a bit, I've put each grouping of four in a baggie and I've thrown all of the baggies in a green trash bag. I'm having Meli reach in and pick out a new one for each square. She loves helping with the knitting, and this way I'm surprised by each new color choice.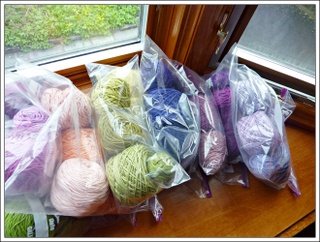 So far I've finished one square and am almost finished the second. And Meli has already chosen the colors for the third square. I'm absolutely loving how they're coming out.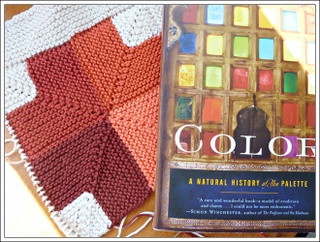 This is the beginning of the first square, along with a book that Lolly recommended on the Project Spectrum Facebook page. The book is called Color: A Natural History of the Palette and I thought it would be a fantastic companion to the blanket.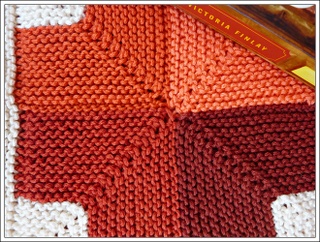 In the put on the back burner but in no way forgotten category, I finished all of the knitting and seaming on the Miter Madness project!
There are still a bunch of ends that need to be woven in and it needs a good steam block, not to mention a fantastic photoshoot worthy of such a project. I'm not sure when that's happening. I needed a rest after all that hard work. It will happen and it won't take another three years. Trust me when I say it's fabulous. The black border came out better than I ever could have hoped and is the perfect frame for the squares.
Of course, I had hoped to be blogging more regularly, but life around here has been kind of crazy – literally – thanks to a nice round of postpartum anxiety/ocd. Things are finally getting back on track and I have high hopes for blogging lots of squares and lots of color in the near future.
Thank you, as always, for reading. I'm so happy this community is still so strong.
Happy Project Spectrum!!!
L, C