Thanks for all the well wishes. I'm feeling a bit better today, but I think the cold has just stalled out a bit. I'm sure it will come roaring back right in time for the weekend. And thanks for all the remedies – I'm kind of a complain and bear it martyr when it comes to being sick. I can't really take any over the counter medications – they leave me in a state of panic with a rapidly beating heart and swirling head. I'm in the sickness is better than the cure camp. Eh. It's just a cold.
I didn't get as much done on my Pomatomus sock last night as I would've wanted because I treated myself to some Vintage Bruce. We're talking 1978 – what some might consider the Golden Age. I turned off all the lights in my bedroom and sat with my lighter in hand with the music blaring and made pretend I WAS THERE. I don't care if you think I'm crazy because I had the time of my life. And when G finally got home from work I played him some of the highlights and then made pretend I WAS THERE WITH HIM. Even better. God bless the Internets. Seriously. God bless the Internets. I've said it once and I'll say it again – if anyone ever invents a time machine the first place I'm going, without a doubt, is a concert on the Darkness tour – preferably one where he does the whole Sad Eyes/Drive All Night thing during Backstreets and with the KICK-ASS intro to Prove It – me and G. Together. At the age we are now so we can really appreciate it but back then. It's a dream. Don't kill the dream.
Anyway, Pomatomus isn't a pattern I can knit in the dark. It also doesn't help that I had my hands clenched under my chin in a prayer-like position before the alter of my idol. Again. Don't kill the dream. Here's the sock as it stands right now: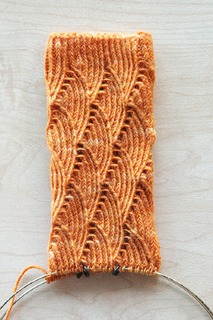 The sock is STR – Sunstone – lightweight. I love it. Really and truly love it. I'm cruising along – got the pattern memorized and the yo/purl thing going good and I hope to get to the heel tonight – lots of good tv tonight. I know Cookie knit the pattern in a variegated yarn, but I really think it was made for a semi solid. Thanks again to Elli for inspiring me with her phenomenol P-socks! (If you're looking for the Sunspot color and you can't find it on the Blue Moon website – you're allowed to call or email and order it – actually any color you see here can be ordered through Blue Moon – whether it's on the website or not.)
On to the Rhinebeck stash! I think I did pretty good. Rumors abound that I bought a wheel, but I really didn't. All I did was put some money down on a Robin – but that gets me on the list. There's a TWO YEAR wait. I can get off the list at any time and get my money back. So I think of it as a maybe/maybe not purchase. A lot can happen in two years, so it's like insurance. It's a gorgeous wheel though – birdseye maple. Just beautiful.
Okay – now the real purchases!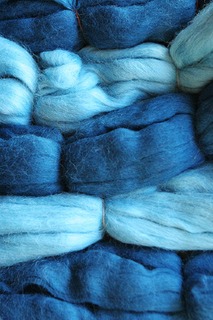 The Sheep Shed at Mountain View Farm – 2lbs of Merino – 1lb each blue. I'm envisioning the two colors plied together for a gorgeous sweater – and maybe doing just a bit in the solids as accents. Especially the dark blue. The color isn't the best in this picture, but the dark is a very dark teal and the light is a very light teal. 😉 They are perfectly complimentary. This will be a big project, obviously.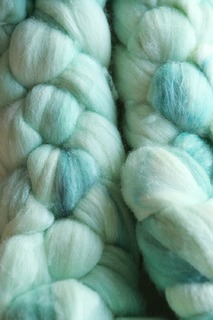 Silk Merino blend from Cloverleaf Farms – 8oz. Celery colorway – I love how there are some blues sneaking in among the light greens. I bought this envisioning a shawl. Every festival I've ever been to I've bought something from Cloverleaf. I guess I like their stuff.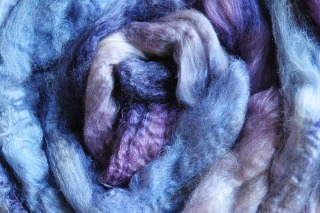 From Foxfire Fiber, I bought some GORGEOUS silk and cahsmere blend – 2oz. This is the Mt. Greylock colorway. I wish you could touch this stuff. It would make a grown man cry with its softness.
Then I came back to Foxfire on Sunday and went a little bit crazy!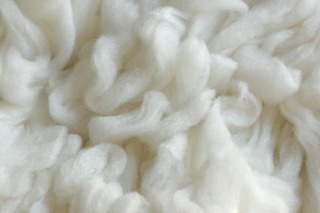 This is a POUND of cormo/silk blend and it's like air. It doesn't even need to be drafted. I honestly would love to sit down RIGHT THIS SECOND and spin this until there is no more. It is that perfect.
I loved the gals at Foxfire! They were so great – and even better – they're totally into Spin Out 2007! So look for some fine Foxfire products in the prize packages this year.
Last but not least, I stopped at The Fold to say my goodbyes to Toni. I just love me a Toni hug! She wasn't there at first so I left her a note and then looked around the stripped clean booth. LOW AND BEHOLD!! What did I find?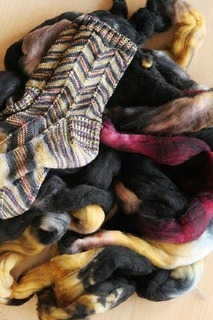 SHEEP TO SHOE! It's a new kit from Blue Moon where in you can spin up the famous colorways for your own handspun socks. This is Carbon and I took the picture with my Carbon Jaywalkers on top. I just think it will be so very neat to spin up my own yarn and compare it to the socks I already have in this colorway. Call me crazy, but I'm loving it.
So, that's what I bought. Actually there was some sock yarn at Spirit Trail and some fiber from Indigo Moon but those are gifts so I'm not showing them and since they aren't for me they don't really count anyway. Now if only my WooLee Winder would get here I could start spinning! I don't want to start any projects until it's here!!!
Yesterday I told you today was kind of sort of special and it is. T
oday is my two year blogiversary and I'm going to get all mushy on your asses whether you like it or not. As you all know, I spent the weekend with some of my favorite people in the ENTIRE UNIVERSE and I met them ALL through this here blog. ALL OF THEM. How ridiculous is that? Over the past two years I have been inspired, moved and entertained more than I ever imagined possible. I have been amazed and awestruck. I have laughed. I have cried. I have been annoyed and angered. I have loved. I have hated. I have been loved and been hated. I have been taught invaluable lessons. I have been saved on numerous occasions. And I thank you all.
Thank you so much for reading my blog. Cotton for everyone!