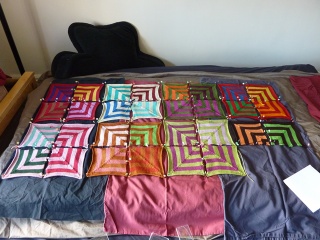 By the time you read this, I will have seamed 15 of the 30 squares and the rest of the miters will be blocking. Yes, my friends, the miter madness continues! I have had complete project monogamy with this – the miters have taken hold all over again. Even though I have a million projects on the needles and I'd like to be knitting all of them all the time, the squares are what pull me in. I feel like I'm cheating if I even look at the knitting. Honestly, my time for any of it is so limited and the squares are easy and give me such satisfaction and I can taste the finish, even though it's a LONG way off.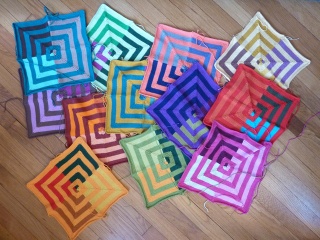 It took me more than ten hours over three days to seam the first square. I must have ripped and restarted like 25 times. The second square took half that time and now, if I had an uninterrupted hour, I bet I could do all four seams without any issues. I finally figured out the formula, so to speak, in lining up the stripes.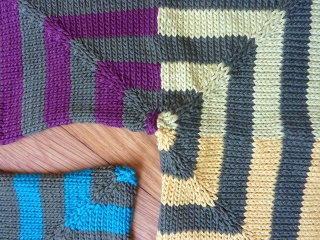 I'm constantly surprised at how satisfying this phase of the project has been. If I had known how much I'd enjoy weaving in ends and seaming I wouldn't have waited three years to get started. It's been the perfect project. Firstly, I took all the thinking out of it. I'm seaming the squares in the order I knit them and I'm seaming them exactly the way they look in this picture. No thinking allowed. It's like I'm one of those color people – you know – when the cartoonist does the outline and someone else just colors in by the numbers? What's so great about it is that my mind is freed up to think about other projects and daydream. And, when I'm too tired to even do that, I just know my job and I do it.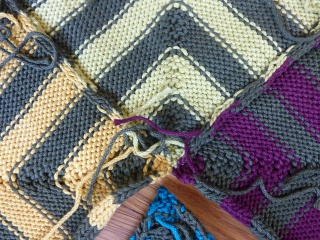 Undoubtedly, the absolute best part of the project – always the best part of the project – is all the color. Especially given that there is still about 36″ of snow in my front yard. This winter has been dreary and gray and we're constantly being forced to stay home because of the weather, but every day I get a little pop of fun color to keep me company. And it's always changing. The pile of seamed squares keeps growing and I'm consistently pleased by the choices I made so long ago. So far there's only been one square that I'm sort of eh about, but I'm not changing anything. It was a completely different person that started this project and she made choices that were inspired at the time. The me I am now refuses to get in the way of that vision.
Tomorrow I will pick up all the blocking squares and dive into the remainder pile to match up the yarns with the squares for seaming. I've got my 60″ circular needle winging it way through the mail to me as we speak and I'm ready to order the dozen or so skeins of black Takhi Cotton Classic I'll be using for the border and the general seaming. I'm so happy with this project and I can't wait to get back to work on it. I want it to be finished so badly because I'm so excited to have it finished and I keep imagining how wonderful it will be to see my girls all wrapped up in its explosion of color. And at the same time I will be so sad to have it end. Fortunately, I guess, that end is still a long ways off.
Thanks for reading!