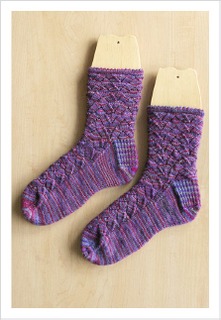 Even with all the excitement during the big game on Sunday, I managed to finish my Purple Rain monkey socks. I love them. 'Natch.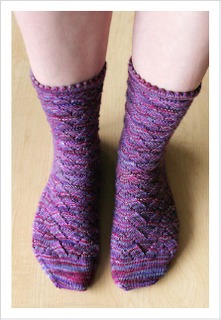 For all of you who've been living under a rock, through no fault of your own I'm sure, I'll give you the particulars. The pattern is Monkey by the genius that is Cookie A. All the credit for the Picot Edge mod should go to Margene because she's the one who did it first. Wizard Woman Tina dyed the yarn – STR. Purple Rain colorway. Don't ask me if it's available. If it's not on the website, it probably means the colorway's not in the rotation at this time. Don't hate me because I have a large stash of the stuff.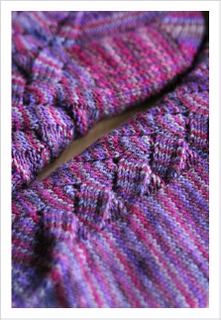 I am definitely NOT sick of this pattern yet. In fact, yesterday I cast on for a new pair, but I'm not loving the harmony between the colorway and the sock. I may go a completely different direction in colorways on the next pair. I have to go through my stash again and make some decisions.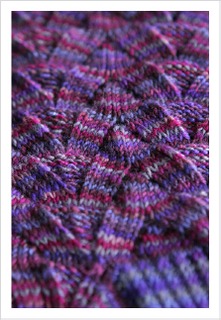 Thanks for all the kind comments on Oblique – and on my belly! This pregnancy thing is so weird. All of a sudden, sort of like, you're this completely different person. Not just mentally and emotionally – but PHYSICALLY! What happened to me? I don't remember what it felt like to NOT be pregnant.
The drilling today is driving me nuts. BONKERS. C-A-R-A-Z-Y! So I think I'm going to eat some breakfast (or MORE breakfast) and take a walk in the fog wearing my new cozy sweater and new socks. My polling place is pretty close by so I think I can make it there and back without too many breaks. If you live in a primary state, I could care less who you vote for – that's your personal business and just like I don't think anyone should tell you who you should (or shouldn't) marry or which god you should worship – I don't think anyone should tell you how to vote. You should vote the way YOU believe is right for you and your family. But you should definitely VOTE.
That's my public service message for the day. Have a good one!