Sorry it took me so long to get this together! Meli and I trekked out to LI today for a wonderfully WII visit. Ann got a WII for Xmas and I took my remote and my mii and we all – Annie, Flair, Meli and me – had a blast! Thanks girls! I needed that!
Here's the contest I promised! Tina at Blue Moon gave me a most excellent birthday present! A COLORWAY FOR MELI! It's called NEVER ON SUNDAY and it's beautiful!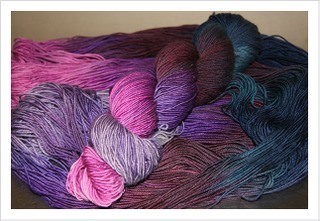 Meli's Color: Never On Sunday
Thanks to Tina for the picture!
In honor of this new gorgeous colorway, my beautiful daughter and my lovely friend Tina, I'm going to give away my family of yarn. Two grand prize winners will receive THREE skeins of Lightweight Socks That Rock in the January One, G-Rocks and Never On Sunday colorways!!!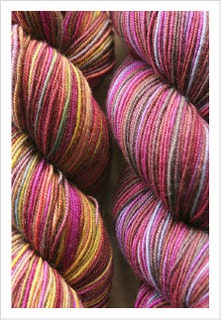 (l) G-Rocks; (r) January One
Three prize winners will receive ONE skein of Lightweight Socks That Rock in Meli's Color, Never On Sunday.
All winners will be selected from the comments by random. Here's how to win:
Leave me a comment (in English – sorry all my Russian commenters!) and tell me one of your knitting goals for the coming year. For instance, my knitting goal for the coming year is to actually knit. One comment per person please. Comments will close at 11:59 PM EST on Tuesday, January 6th. I will announce the winner on Wednesday.
Just so you know – the colors are currently not available on the Blue Moon website, but all three colors will be up there sometime later this month. I'll let you know when they become available. In the meantime, you can try to win them here! Go ahead! Leave your comments!
Thank you!
L, C