Reality has set in. Now that I don't have to think about work 24 hrs a day I've realized that OH MY GOD! We're having a BABY!!! I don't need to tell you that panic is not pretty. That's pretty much what I was doing this weekend. Panicking. A BABY! That is FOREVER! AND EVER! AND EVER!
Scary stuff my friends, as I'm sure many of you know. Scary scary stuff.
I tried to assuage my fears with knitting. Selfish self-indulgent knitting. (BEWARE: Some seriously CRAPTACULAR photos to follow!)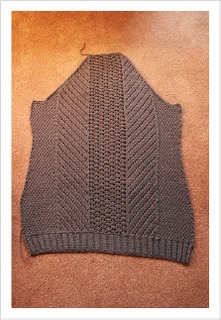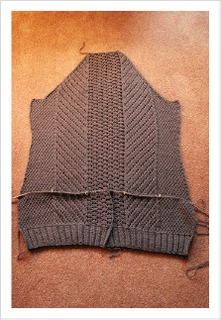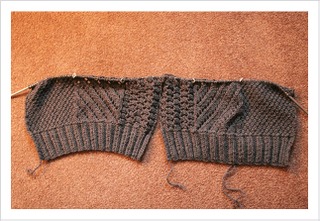 Oblique now has my full attention. I'm loving it! I finished the back and the measurements all seem good (it's going to be big and comfy!) and I started on the fronts. I am a big fan of doing the fronts and sleeves together. It takes a bit longer, maybe – maybe not, but you can also keep better track and make sure that you do the same thing for both fronts/sleeves. I'm at the point on the sleeves where I can start the shaping decreases and that shouldn't take too long. I figure the fronts should go pretty quickly because you've got raglan decreases along with neck decreases – that's a lot of decreasing! I'm hoping, maybe, to have the fronts finished by the weekend. Ambitious, to be sure.
I've started feeling sick again. Sad, but true. And I'm tired. Things hurt. All of which makes me really nervous because I've still got 13 weeks to go.
I hope you had a wonderful holiday or day off or Tuesday. I'm trying to think up a spectacular birthday contest – something really over the top this year. We'll see how well my brain works!
Thanks for reading!