I'm so close on this project, I can taste it!
I wasn't that close this morning, when I was getting ready to post. I had taken all my photographs and prepared them and was all set to upload them when I realized I had no internet connection. I checked the tvs and no tv either. Cable was out. It went back on about 5:45 PM (It went out around 10:30 AM.) Needless to say, while I did get a lot of stuff done around the house, I also figured out my next miter.
See, this morning, I was going to tell you that for the first time since the beginning of this project, I DIDN'T immediately cast on for a new miter. Not because I didn't want to – but because I felt like I really needed to sit with the project before deciding on how I was going to end it. I know how I'm going to end it.
First, though, let's look at the progress I made this weekend: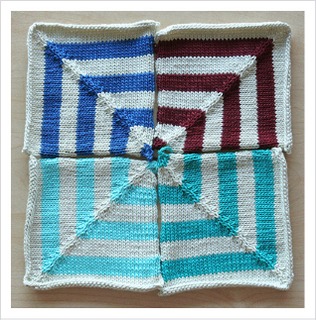 Square #23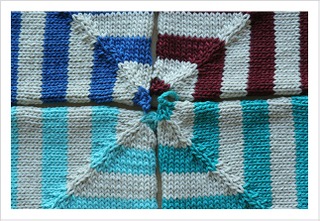 This square is yet another in the Stained Glass series based on this photograph: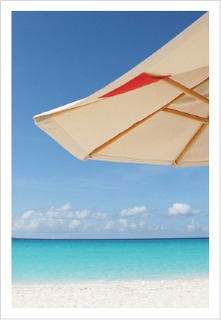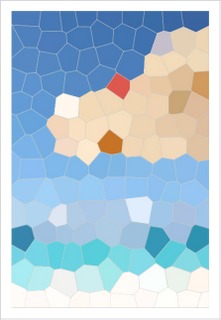 I've taken to using the photographs as more of a suggestion than an acutal color palette and I'm enjoying the process very much. Two more squares: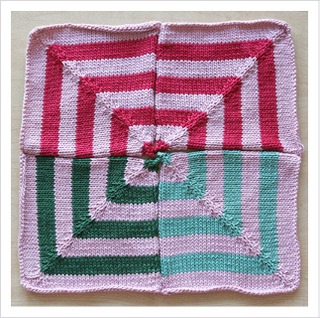 Square #24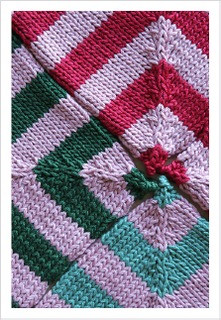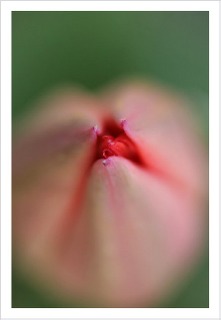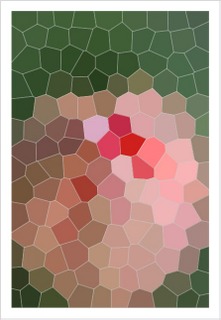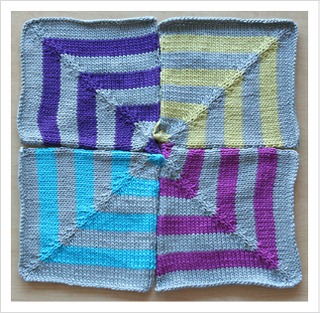 Square #25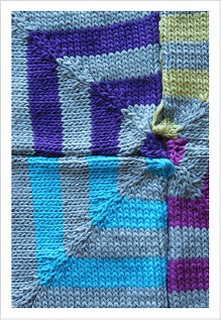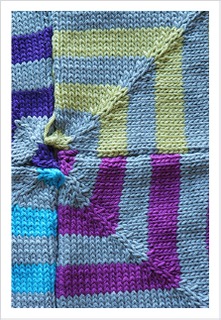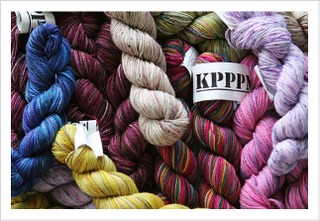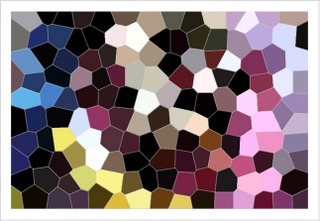 That brings my miter total up to 100 – 25 squares. I have definitely decided on 30 and the last square that I knit for this blanket will be based on the finger photograph. The finger square will anchor the blanket – it will be placed in the lower left hand corner and the layout for the rest of the squares will grow out of it. So that leaves four more squares to plan. The whole weekend I had the blanket laid out on the floor. (G was so good to step around it – especially since it was right at the entrance to the kitchen and pretty much blocked the whole passageway.) I wanted to study what colors I had used and what I felt like the blanket needed and what better way to do that than walk by it a million times a day. This is what I studied: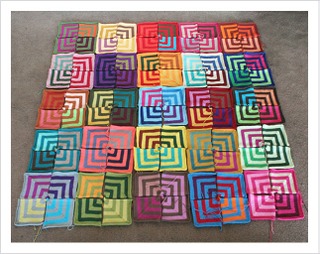 It goes without saying, of course, that this is no where close to the final layout – either for the squares OR the blanket. This is just putting it all down so I can get a good look. After I took a picture – I applied the Stained Glass Filter so I could get a better idea at the colors represented and hopefully what I need to concentrate on for the last four squares.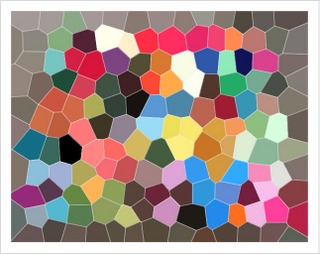 I've already started a mainly purple square because I feel like it needs purple – and I'm using lighter colors for the main color because I think it needs some lightening up, but I'd love to know what you think it needs. It's become very hard for me to be objective anymore. I have to say, though, I am LOVING what I've got and am so excited to put it all together. I just hope I don't drive myself crazy with the final layout.
Here are a million more pictures of the squares laid out – I couldn't resist. Feel free to skip over.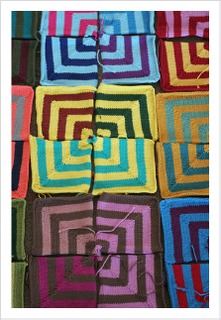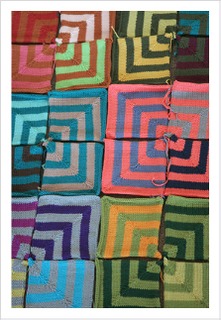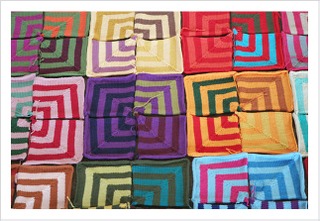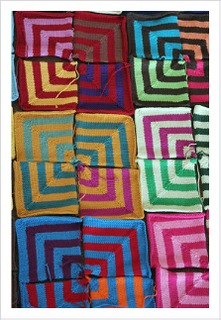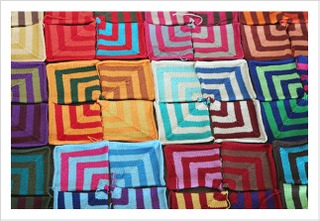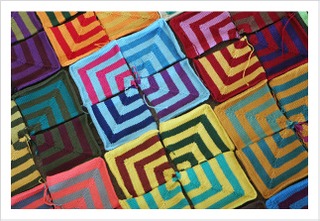 So? What do you think? Fantastic, no? Okay – so maybe you feel like your retinas are being blown out, but I'm very happy. Very very happy. EXTREMELY happy. I can't wait for this to be FINISHED. I told G I was getting to the end and he said that's great! What's next? What's next indeed! (Someone's bound to ask – most likely I'm going back to the KH Cardigan.)
For those of you doing the Mason Dixon miter, Kay gave me a tip that can help you get into a rhythm on the miters. For every decrease row that has a stitch count divisible by 3 BEFORE the decrease, you do a SSK, K2TOG, K2TOG, knit to end (should be the same number of stitches as BEFORE the decreases.) On the rows that DON'T have a stitch count divisible by 3 – you do a SSK, SSK, K2TOG then knit to the end (should be one LESS stitch than the number of stitches before the decrease.) Trust me on this – it works. The first few miters I was doing all this division, because, you know, I'm math-challenged, but it's pretty intuitive now. I also know that when I'm using my "main" yarn, I'm going to have two decrease rows that are divisible by 3 (the first and the last) and one that's not. The opposite happens when I'm using the contrast yarn.
Whew! Before I sign off, I wanted to let you all know that I'm not going to Maryland Sheep & Wool this year – family stuff came up and it was too much of a pain in the ass to get down there around the family stuff. Not to mention the fact that the last thing I need to be doing is buying more yarn or fiber. So I won't be organizing a knitblogger meet-up, but I understand one is being organized by Gryphon. So go on over there and check out the details. Have a blast everyone! (At least this year there's NO WAY I can be blamed when the STR sells out in five seconds flat. So don't even try it.) (Oh and if there's anyone out there willing to buy me a t-shirt, I'll paypal you the money ahead of time and hopefully make it worth your while. BUT only if you're planning on standing in that hideous line anyway. I don't want anyone going out of their way. THANKS!)
Okay. Back to mitering. The finish line is calling!