That, my friends, is the sound of my own horn! Many of you have been so kind and sent me congratulations about this: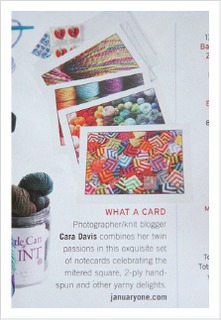 Yup. That's right. Those are my notecards! In the exalted pages of Vogue Knitting! (Page 8 to be exact, the Winter 2007/08 Issue!)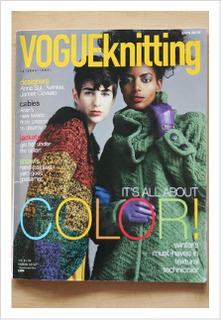 It tickles me to no end that my Color Collection appears in the magazine where the issue is all about COLOR!
THANK YOU VOGUE!! What a great way to start the year!

In order to celebrate, I'm going to have a very COLORful contest! I'm giving away SIX BOXES OF CARDS! The only thing you have to do is leave me a comment telling me what your favorite color is and WHY. Or maybe the color you hate more than anything and WHY. Or how about a color you've always wanted to wear or knit or love but have been afraid to for whatever reason. Tell me the color and the REASON. Not too hard, right?
There will also be two GRAND prizes. TWO $25 gift certificates to The Loopy Ewe! One grand prize winner will be picked at random, the other will be picked because I like your entry the most. So, four lucky random winners get cards, two get cards + the grand prize. Please, one entry per person. Comments will be open until Wednesday, January 9, 11:59 PM EST. Winners will be announced sometime on Thursday.
Thank you and have a wonderfully COLORful day!
PS – If you'd like to skip ahead and just buy a box of cards, ordering information can be found in the sidebar or here. THANK YOU!