So you know how some people will say: "It was so much fun I pissed my pants!" or others might say: "That scared the piss out of me!" ? Welp – that's the kind of weekend I had! Lots of wet pants.
My sister set up the new huge trampoline in the backyard last week – you know – when it looked like it might really be Spring? – just in time for the litte one's birthday party on the weekend. Luckily Saturday turned out to be the NICE day and we all got a chance to jump. Can I just tell you? I can't remember the last time I had that much fun! I cleared all the kids out and went to town, windmilling my arms higher and faster, forcing my body to SOAR! I was laughing and laughing and jumping and jumping and I pissed my pants. Literally – pee came out. THAT'S HOW MUCH FUN IT WAS!
(I'd like to think it was also the bottle of water and gravity and not some kind of bladder malfunction because I thought all that pee stuff was supposed to happen AFTER you have kids. Not before. Needless to say I've been doing Kegels like crazy. There. I just did another ten.)
The party was great and we all had fun and then Sunday night I got the opportunity to have the piss scared out of me. It was late and I was having trouble sleeping what with all the wind and the rain and I had finally fallen asleep. Then – CRACK – CRASH! I bolted upright! What the hell was THAT? I listened. Nothing. I waited for the others to come running. Nothing. I checked for wetness – whew! Nothing. (Although I was sleeping in the waterproof princess bed, just in case.) Eventually my heart stopped pounding and I went back to sleep, figuring that it was just the wind. The next morning we found the branch across the backyard and the hole in the roof of the garage. Thankfully it missed the house.
Quite the weekend of extremes. I'm ready for some nice weather now. Any time Mother Nature is ready.
Onto the miters! We've got two (I just love reaching my goals!)
The first was inspired by this photograph: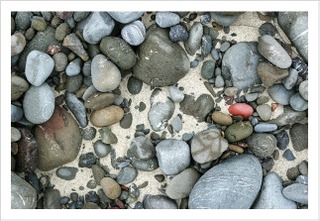 I applied Ruth's method by using the Stained Glass Filter in PhotoShop.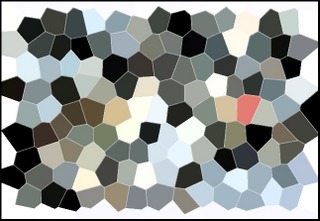 Then I went to the stash and pulled out some colors:

Which gave me this!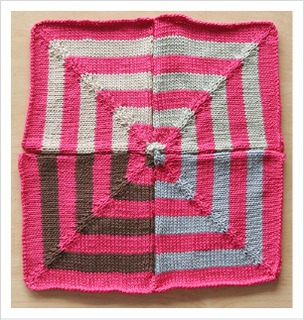 Square #19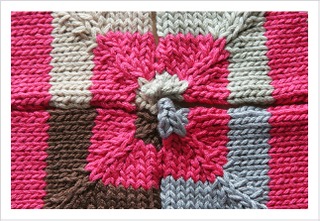 I'm pretty happy with how it worked out! I've got four (or nine) more squares to go – and I may just try this exercise again.
For the next square, I just put together colors that made me happy!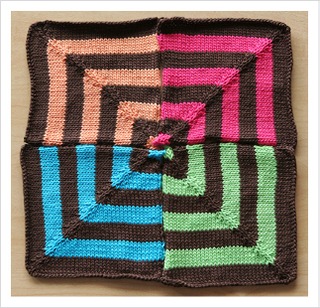 Square #20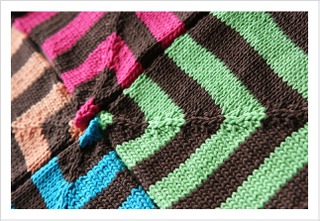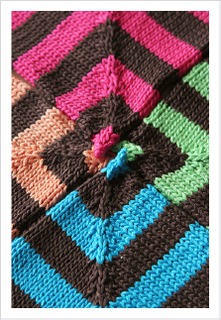 I just love how the dark chocolate brown sets off all of the bright colors. You'll be happy to know that Square #21 is half finished.
Thank you again for all your comments and opinions on my post about blog behavior. I'd like to reiterate that I welcome constructive criticism. I understand that my opinions are one in about 6.5 billion – opinions, it turns out, really ARE like assholes. My blog life is VERY charmed and while it IS hard work and occasionally people like to rain on your parade, I'm not going anywhere anytime soon. At least as long as it takes to sew up all these miters. Have a great day!