If you can stand it, so can I!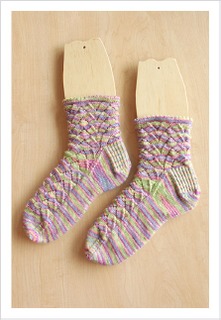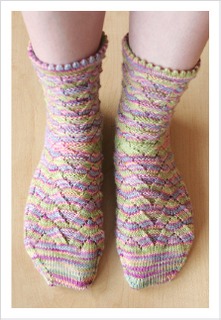 Finishing a pair of socks is like your birthday, all eight nights of Hannukah, Christmas morning, a gift from the tooth fairy, a visit from the Easter Bunny, fresh baked cookies, a good hair day, getting into your skinny jeans, making out in the car, and a Springsteen concert all wrapped up in a fantastic box with a shiny bow on top!! Okay. Maybe not as good as making out in the car or a Springsteen concert, but you get the idea. I love my new mini-monkeys!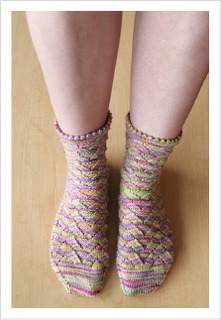 I love that they are a bit tight (like my beloved Jaywalkers) so they stay up – no slouching here! And I love the colors and the STR and the undulations of the monkey pattern. I love that my friend Tina dyed the yarn and my friend Cookie designed the pattern and my friend Margene knit the modification. There's just LOVE ALL AROUND!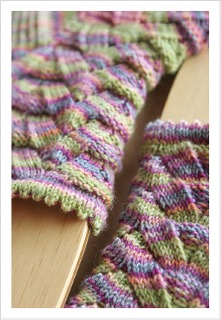 Most of all, I love that when it's finally chilly again I will have a drawer full of monkeys to choose from and you can bet your bottom dollar that my mini-monkeys with the picot edge will be the first pair I grab. There's nothing like a picot to bring out my inner princess!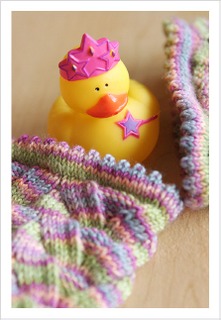 Monkey Socks
Pattern: Free on Knitty
Yarn: STR Lightweight in Watermelon Tourmaline
Modifications: I cast on with a picot edge and knit four repeats for the cuff. I did my preferred heel and toe. I used US#1 Addis for the entire sock.
Princess Rubber Ducky: My sister purchased them here. Knock yourselves out. There's like a duck for everything.