My first order from WEBS came yesterday. I have to say, I'm going to like this store. A LOT.
I originally went there because they had ArtYarns Supermerino for a decent price – and with their discount program (the more you buy the less you pay) it was a great place to shop for Supermerino.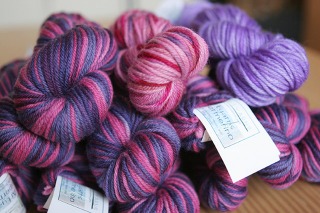 Lauren, that's your three on the top!
I actually bought more of the Supermerino – I'm making cardigans for my best friend's girls – not for a while though – but it was backordered. WEBS was very nice about it. I will definitely do business there again.
While I was perusing the shelves, so to speak, I came across some Jo Sharp Desert Garden on Clearance. So I bought two bags.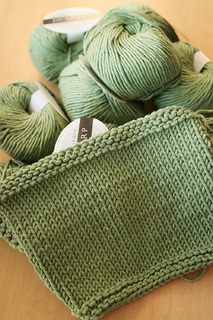 Color: Dandelion #238
I immediately swatched the yarn because it seemed so similar to Calmer. It's springy like Calmer, not as much, but nowhere near as soft. It reminds me of All Season's Cotton too. The yarn has that tube like appearance. It knit up nice though – I used size #7s.
The problem with this is yarn, though, is that it made me think of Calmer, and then I couldn't STOP thinking about it and I ended up buying 12 balls of it from Janette. In the chocolate brown color. I kind of regretted it the moment I did it, but I figure it's Calmer, right? Can't go wrong there. (I'll probably end up with more because I want a lighter color. Oy.) At least, I think I got a good price on it.
I barely knit yesterday. I needed the break.
Two things before I go: Happy Birthday Cassie! Cassie has the unique distinction of being the first blogger I met in real life since I started blogging! I owe you a cup, my friend!
And, I love this blog (of sorts).