Remember I showed you this photograph from the NYT on Monday?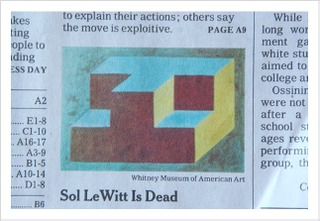 Remember how freaky it was that the Sol LeWitt painting they showed with the announcement of his death pretty much EXACTLY matched the square I had started the night before?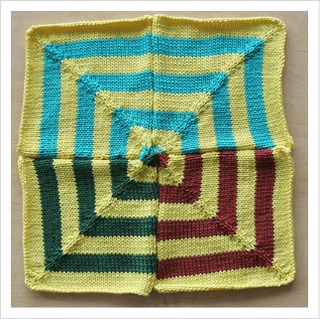 Square #17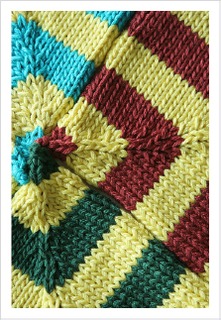 I showed G the picture and my square and he said that I must have seen the painting somewhere somehow and I said no. I can't remember the last time I was at the Whitney (which is where the picture seems to hang) – sadly, it's got to be AT LEAST 18 years ago. I told him that I had never even HEARD of Sol LeWitt. Not once. The only possible explanation is that on his way to heaven, good old Sol whispered into my ear, "The yellow will look great with some light turquoise, some forest green and some rusty brown red thrown in for the accent." Really. That's the only thing that could've happened.
Any other dead or dying artists (or even living ones) that would like to whisper some color combinations into my ears – bring it on. I'm starting to struggle.
In fact, when I was putting the photographs of #17 into the gallery – I caught a glimpse of #14 and panicked for a second that they were so close – but I think it's okay. The yellows are different and the greens are different and the blues are different and there's rust instead of wine. So, similar, but not the same.
When I first started this project I thought I needed to be really inventive about my color choices – be BOLD and DIFFERENT! Now I'm just happy to find inspiration anywhere I can get it. I find myself putting together these great combinations only to realize that I've already done it with maybe a touch lighter shade of purple or a darker shade of blue. As frustrated as I'm feeling – this is the time to persevere. Many times the moment of exhaustion – the moment where everything blurs together – directly precedes the times of utmost clarity. Or at least that's what I keep telling myself.