One of the things that made yesterday such a great day was that G had his six month cancer check and he's ALL CLEAR! YAY!
It's just so awful being back at that hospital and my heart goes out to everyone dealing with cancer – or any other illness that has the potential to rip your family apart. It's such a scary place.
But we're all good.
I promised you a finished sock today, but alas, I fell down on the job: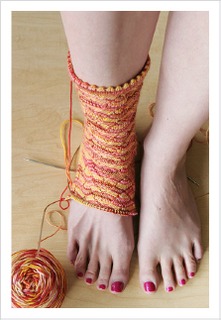 It's an almost finished monkey. I've got about two repeats and the foot to do. I probably won't be able to get it done today, though, because in just a few short hours Moth will make it's debut! We're going to Kabuki! The show is part of the Lincoln Center Festival and I'm really excited about it. My youngest sister and her boyfriend will be joining us – she just got back from Japan so it's great timing. We figure we'll celebrate our OTHER sister's birthday today. Happy Birthday Sis! We love you!
PS – I'll try to get a picture of me and the shawl together. No promises though!