Yesterday I pretty much ignored all the things earmarked for the day and instead just knit. It was bliss.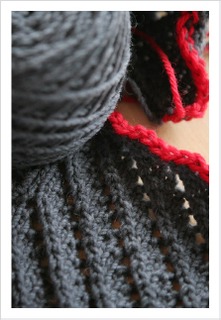 I started the sleeves for Oblique and went on my merry way. As I mentioned the other day, I'm not doing the ribbing on the sleeves the way the pattern states – it calls for really big cuffs that roll up. If anything, I'd rather have some simple ribbing and because I've gone up a size for the body, I don't want the sleeves to be too long. So I took a page from ThatLaurie and I jumped right into the lace patterns after casting on with a provisional cast on. I haven't done that many provisional cast ons in my life, so I headed to google and found this one right at the top. Worked great! In fact, I can even vouch for how easy it was to pull out the scrap yarn because I screwed up and cast on one stitch short, so I had to start over.
I can almost TASTE the end of the sweater! I've got the lace patterns all memorized (it only took me until 3/4s of the way through the fronts!) and I just sail along. The yarn is really one of my favorites ever. Just to recap, I'm using Beaverslide in the Catbird colorway. The color photographs differently every time I take a picture, but I think the two at the top are a really good representation. My goal is to have the sleeves finished before Monday. That's the goal. I think I can do it!
Speaking of goals, I've been reading a lot about knitting resolutions and intentions and goals for the new year and I actually have a few myself. First off, finish Oblique. Next I want to start a new shawl I fell in LOVE with at Rhinebeck and would love to wrap myself in for some end of pregnancy photographs. More details on that soon. I'm also hearing the siren song of socks. Socks. I miss socks. Can you believe I haven't worn ANY of my monkeys this winter?!? NOT ONE PAIR. How pathetic is that. I've worn lots of Jaywalkers, but no monkeys. I want to finish the monkeys I have on the needles and possibly branch out into a different pattern. We'll see how that goes, but I think socks will be very nice once the baby's here. Easy to transport and not a lot of thought.
The biggest goal I would like to accomplish before the baby arrives is to seam the Miter Square Blanket. I've given myself permission to ignore all the ends until AFTER it's been seamed. So all I need to do is block the squares well and seam them up. I think about it every single day. It will get done.
So those are my short term (read before baby) knitting goals. I think they're kind of doable. I hope they are at least.
Have a great weekend!
PS – Our birthday dinner out was really quite lovely. We had a great time together and it definitely more than made up for the earlier ickyness. And while I still feel pretty nauseated a lot of the time, the puking has stopped, for now.