Hey! Check it out! It's a SOCK!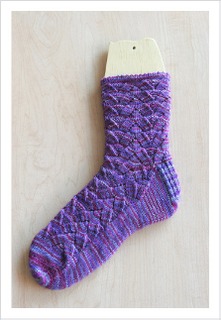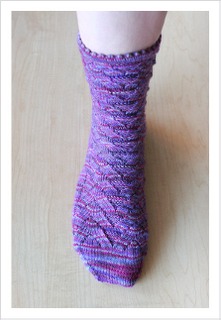 I finished my first purple monkey last night (STR Lightweight Purple Rain.) I honestly forgot how much I absolutely adore those tiny little sock stitches. They look so perfect. I'm so glad I've remembered!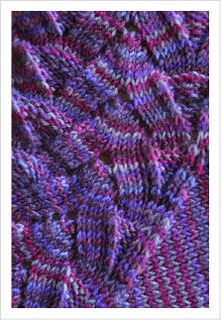 So here's the deal on why I haven't worn any monkeys until recently (although now I haven't taken them off.) I started knitting monkeys in May. The last pair I finished was in August and I started the first purple sock in August. I don't think I need to tell you that May through August equals NO WOOL SOCKS. I'm a barefoot girl in general, but I do like to wear my handknit socks. I usually wear them all winter. But I also wear these shoes most of the winter. They have a very warm fleece lining which is perfect for bare feet. (I actually really like going out in the cold with bare feet and these shoes. It's a little bit decadent and wrong.)
Also, this winter hadn't been so cold until recently and I'M PREGNANT. Which means I'm 80 million degrees most of the time. And nothing makes you hotter faster than wool on your feet. Trust me.
There's also a little secret weird thing I do with my socks. I don't weave in the ends until I'm ready to wear them. I finish the sock, I photograph it for the blog, and then I stick it in my sock drawer. When I'm ready to wear them I take them out and weave in the ends. So strange. The real truth is that anytime I reached for a sock this winter I remembered I hadn't woven in the ends and went for a Jaywalker instead. Sad but true. Now you know the whole story.
I can't wait to cast on for the second sock and I'm already planning what I'm going to knit next! Jaywalkers and Monkeys are PERFECT for my beloved STR Variegated yarn – anyone have any other pattern they've had particular success with in terms of variegated yarns? I'd love to hear about it!
I've also finished the collar on Oblique.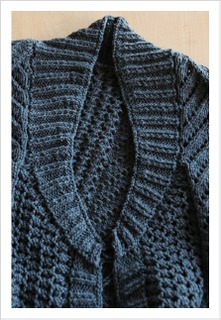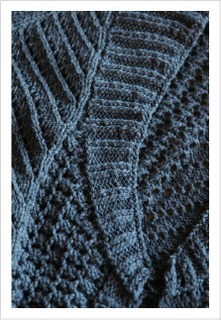 Which means all I have left is some quicky ribbing on the sleeves and seams. I hope to have it finished by the weekend. This thing is HUGE. But I still love it.
I've got some yarn coming to me for a very special project that I'm chomping at the bit to start. Hopefully I'll have it for next week! And I've got another project that I hope to get on the needles this weekend. At least cast on. If only I didn't have all this cleaning to do. Or taxes. Or other work stuff I'd be KNITTING KNITTING KNITTING!
I'm also planning on a major fiber sale. Time to make room for baby. Stay tuned!
Have a great weekend!
L, C