Oh my god!! Can I just tell you how much I LOVE my mini monkeys?!? THEY ARE THE CUTEST SOCKS EVER! And, if I didn't believe it before, I'm here to bear witness that a picot edge makes EVERYTHING in the world sunshine and unicorns and rainbows. It's like a big hot fudge sundae with whipped cream and rainbow jimmies and TWO cherries on top for your feet!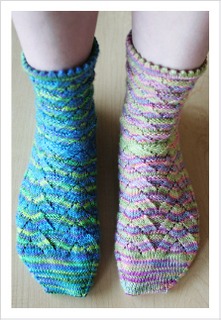 Here is my mini monkey formula: knit 5 rounds, yo k2tog – repeat for entire round, knit five rounds, knit together stitch and cast on edge to create picots next round, knit one round, start monkey pattern. I then did FOUR repeats for the cuff, which gave me about a 3.5″ – 4″ cuff, then do the heel and foot as directed by the pattern. All done on Size 1 Addis. I DEFY you to tell me these aren't the cutest socks EVER!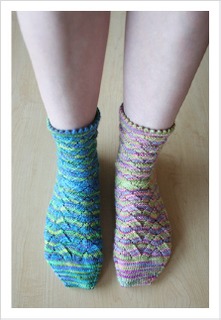 I made them with vintage STR from my stash – the lighter pinky color is Watermelon Tourmaline, which is still available on the Blue Moon website, and the green blue colorway is Seastone, which Tina told me is now discontinued. Both socks are from the old put up – 325yds. I'm not sure how much I'll have left over, but it won't be much. There's a possibility that I could do another repeat on the leg, but I think I'm sticking with this formula. I don't have to worry about running out of yarn AND I don't want them any higher on my leg. This length is PERFECT. The best part is that the monkey pattern really has little to no give so they stand straight up. No slouching here. I LOVE THEM!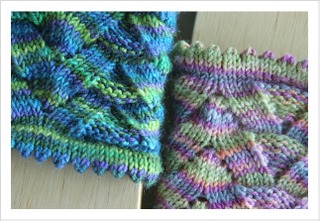 Last night I cast on for the second Watermelon Tourmaline sock. I just wish it wasn't a million degrees outside. I might just have to crank up the air and sock it around all day.
I received a couple concerned emails yesterday regarding my self-proclaimed craziness. Thank you so much for caring, but I didn't mean to say that I was crazy (well, no more so than usual) but that IT was crazy. Meaning life. And all the stuff I have to do. I've got a lot of work which is GOOD, but I'm feeling the pull of the deadline, so I opted not to kill myself by staying up late to finish the socks and thus have a legitimate post for yesterday. I hope today makes up for that fact. Thanks for reading!