My bloglines subscriptions are dropping like a big belly in the ninth month! I mean, sure, pregnancy's all wonderful and everything and a miracle blah blah blah, but let's face it: I wouldn't want to hear about someone puking everyday, so why should you? (Still happening by the way.)
So let's talk about something else. Let's talk about *GASP* KNITTING! YAY! Whenever I get anxious, as pregnant women are wont to do – you know, will I ever stop puking? OH MY GOD, what have we done!!!!!!!?!, the baby comes out WHERE?! – I think about what I used to do to calm myself. I used to knit. Oh how I miss it! But also, not so much. It's really really weird.
I managed to buy yarn – on clearance at WEBS – for the Mommy Snug. I even swatched for it on two different needle sizes and I fully intend to knit it for myself. I think it's going to be fantastic. But it's not going to be done for Rhinebeck, maybe not even CAST ON for Rhinebeck, but I want something new. I want to be knitting towards a goal, you know? I want something – ANYTHING – to spur me on.
Enter Sundara and her fabulous yarn!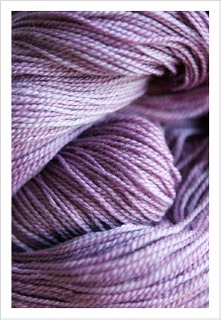 After I went through all the fabuloso yarn Sundara sent for Spin Out prizes, there were a couple of colors I just HAD to have. The Orchid colorway you see in the photo was one of them. I pass by it a million times a day and it calls out to me – it's practically screaming at this point – KNIT ME KNIT ME! So I'm thinking I'll start a pair of socks. For Rhinebeck. And Soctoberfest, which starts super soon. I think I haven't missed a sock-filled October yet, so why start now? And with a sock I can see progress pretty quickly, without having to knit that much. I can ease myself back in.
I need your help though. I can't figure out what pattern to knit. I want something plain-ish – not too busy – to show off the beautiful subtle coloring. And while I love the LOOK of a rib, I hate to rib in socks more than anything. Really. I don't mind purling – like in the monkey sock – it's the back and forth I hate. Got any ideas for me? I really appreciate it! Thanks!
Business: Tomorrow, a HUGE post of Spin Out prizes. HUGE. It's going to take me all day to photograph them! And all of you who have asked about the Spin Out location and whether or not you need to bring chairs – I'd say YES – you need to bring chairs. I'm planning Wednesday to scope out the sight and I will report back Thursday with all the particulars of the event, but until then – you're going to need somewhere to sit if you're bringing your wheel – and don't forget – you can always knit or spindle!
Have a great day! I'm sure gonna try!
L, C