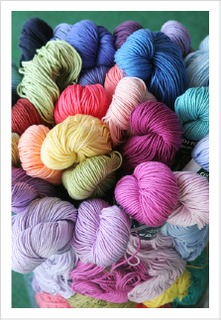 I don't have a new miter to show you today (maybe I'm dragging things out because I don't want the knitting to end!) so I thought I'd answer some questions about the project, and maybe, just maybe, if you're patient, they'll be a little contest at the end of this post. Firstly, I'd like to say – what the hell did I blog about before I started this project? Everyday I think about what I'm going to blog and the only thing I can think about are the damn mitres. And what's with the spelling of mitres/miters? Does it matter? When I spell it miters, do I look like a bumbling American? I mean, I AM a bumbling American, but do I really want to put that out there in the world?
Alright. The miters. I currently have 28 unused colors. I have FOUR SQUARES – actually 17 MITERS – left to knit. That's potentially 20 different colors. I'm not going to use all 28 because I know I'm going to repeat some – but still – I started out with 95 different colors – I think I did pretty good.
One of the questions I've been getting nonstop since I started this project is about my leftovers. What am I going to do with my leftovers? I've been offered money for them. One beautiful knitter offered to take my leftovers and knit me something from them. Others have been so kind as to take them off my hands – FOR FREE! As if I didn't want them. PEOPLE. I'm KEEPING the leftovers. I'll do something with them eventually and if I don't, they're still mine. It's like when you read a book – you don't give it away when your finished. You put it on your shelf and there it sits forever collecting dust because it's now a part of your soul and you can't ever part with it. Yarn is just like that. At least the yarn for this project is like that. So give up on the leftovers. They ain't goin' nowhere, no how.
Another question I've been getting – did I have all this yarn in my stash? Well, sort of. Last January, I bought four grab bags of Tahki Cotton Classic from WEBS on the advice of the mitre master, and then stuck them in my closet. I had no idea what I was going to do with them. No project in mind at all. Then one afternoon I mitered and the rest is history. Pretty quickly I started buying up all the different colors I could find and I ended up with 95 different colors. I think. I have to go back and check, but I'm pretty sure that's the final color count.
More answers: I will be putting a border on it – I'm thinking a dark garter stitch. Single color. Simple. Maybe black. I haven't given any thought to a back. I don't think I'm going to back it, but you never know. Never say never. I have thought about mixing up all the squares and making it completely random, but that's a different blanket. The rules stay. I will not be placing the same color miters in a particular square at opposite corners ALL THE TIME. I will do this occassionally, whenever I see fit. Chuck Close has been mentioned before. I like Chuck Close. Have seen his work up close and personal. In fact, once, a long time ago I was looking at a Chuck Close at MOMA and Vincent Price was looking at the painting next to me. I have noticed – especially when finishing one miter and starting another – that the color of a yarn can look SO different depending upon which color it's up against. Very much like it's a different dyelot, but I can assure you, I've only used ONE SKEIN of each color I've used. I mentioned before that I'm getting five miters out of a skein – four dominant color mitres and one background color miter, but your mileage may vary. Everyone knits different and just because that's what I'm getting – you may knit loser or tighter or whatever and get a different result. Some of the squares have a color repeated twice in the background and some of them have four different backgrounds and I've made these decisions on a square by square basis. The rule that there is one constant MAIN color has remained constant. And will not change.
I think I answered a lot of the questions I've been getting, but if I missed yours, please ask again.

CONTEST!CONTEST!CONTEST!CONTEST!
It's been a while since I've given anything away and I've got a bunch of fairly new readers and I used to give stuff away all the time so I'm feeling guilty about not giving stuff away and you've all be SO SUPPORTIVE of this project and while you say you love it and I believe you, I know that some of you can't stand to look at another freaking miter, so I'm going to share the love.

GUESS WHAT DAY/TIME I WILL FINISH KNITTING THE LAST MITRE AND YOU WILL WIN:

Your own 10 skein/10 color grab bag of Tahki Cotton Classic and a copy of Mason Dixon Knitting.
I mean, really, what's the good of being MAD if you can't share it, right?
This is how to play – SEND AN EMAIL to
MITERMADNESS@JANUARYONE.COM
In the body of the email give me a date and a time – like this: 4/29/07, 11:53PM – (THAT's MONTH/DAY/YEAR because I'm a BUMBLING AMERICAN!) for when you think I will finish the LAST MITER! (Not the border, not sewing it all up – just knitting the miters.) And you can say hi if you want but it's not necessary. ONE ENTRY PER PERSON! The person who comes closest to the winning time WITHOUT GOING OVER will win. IN THE CASE OF A TIE – I will choose from the winners AT RANDOM.

ETA: I SCREWED UP ABOVE and said that I had only 4 miters left to knit. As of this edit, I have 17 MITERS to go. If you entered the contest before 11 PM EDT and would like to re-enter based on this CORRECT information, please do so. Thank you and sorry – I've got miters on the brain and I can't think so good.
THE CONTEST WILL CLOSE APRIL 28, 2007 at MIDNIGHT EDT. Any entries received after that will be discarded.
REMEMBER SEND EMAIL HERE: MITERMADNESS@JANUARYONE.COM
PLEASE – DO NOT LEAVE YOUR ENTRY IN THE COMMENTS. Entries left in the comments will not be counted.
A couple things to know – I will be working (photo shoots) both Saturday AND Sunday this weekend, but I will be sleeping at home. Have fun. Play safe. Peace out.