The last time we visited my sister, I took one of my niece's hair clips and stuck it in Meli's growing hair. Oh my god she looked so freaking cute (and OLD!) that I totally plotzed and came home and bought a gazillion barrettes for her.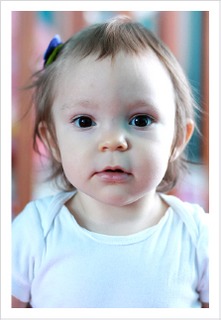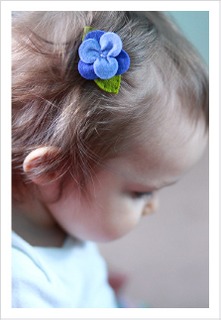 The one she's wearing in the picture above is from Lil Chatterbox. I bought this one and this one. (I specifically bought the purple pansy one with Vicki in mind. I just know how she's loves pansies.) I also bought barrettes from Baby K Designs, Tiny Sweets, and ElleBowsAndMore. I loved these from Baby K Designs so much I went back and bought a ton more from her store. And these wonderful birds from Tiny Sweets are so adorable I totally cried when I put one in Meli's hair. And my absolute favorites these days are the dragonflies from Lil Sugarplum. They stay in Meli's hair super well and are too too cute. (By the way, I found Tiny Sweets and Lil Sugarplum because they were recommended on Cool Mom Picks, a very nice product blog I follow. I've bought a bunch of interesting things through this blog and haven't been disappointed yet.)
Meli totally has my hair. Or at least it's a lot closer to my hair than G's hair. It starting to flip up in the back and she's got these really short bangs because her hair hasn't grown over her forehead yet. Just like mine was when I was her age. I'm going back to my sister's tomorrow and I'm going to have to take all the barrettes so I can show my niece. I just LOVE having a girl! I'm so not girly, not really, but my baby can be (and my niece is very girly so my sister, who's more like me, are living vicariously!)
It's been a really really rough week on all kinds of fronts. Personal, professional – you name it. We've barely had anyone come see our house which is really starting to stress me out. My husband works for a bank – although he's NOT a banker (he works in corporate services) – lest anyone want to egg my blog – but really that's all I have to say about that. Add to all this the fact that they start drilling outside every window in my house at 8AM and don't finish until 5. Even when they're not right outside my windows, the house reverberates with the noise (basically because they're either above or below me.) I have a headache by 8:30. So we're out of the house all day a lot of days (they don't work when the weather's bad, but that has it's own stresses – like they're never going to finish if it doesn't stop raining!) and by the end of the day I'm so tired I can barely move.
Even with my complaining, I know things could be so much worse. Trust me. Stress still sucks. So I'll be hanging at my sister's for a while and there might even be another great date with my husband which would make us happy to no end. Cross your fingers we get some tickets. I'll be back next week. L, C