Last night I had an awful dream – I was injecting myself with something and I knew that injecting myself with this "stuff" was going to kill me, but I did it anyway.
Yeah. Not so much fun to wake up to a suicide dream. Although, I realize, that it has nothing to do with suicide and everything to do with being pregnant. I'm thinking that the injections symbolized the fertility drugs I had to take to get pregnant and the dying wasn't so much a physical death but a METAphysical death. You know – like the death of my current identity being morphed into my NEW identity as a mother? Just my armchair psychology for the day, but it was spooky nonetheless. Took me awhile to fall back to sleep again.
I've pretty much escaped the crazy dreams of pregnancy. I have one every now and then but most of the time I'm pregnant in my "regular" dreams and I'm always telling people I can't do this or that because DUH I'm pregnant. Tellingly I wasn't pregnant in last night's dream. Georgie, my poor sweet, has been shouldering the bulk of the nightmares this pregnancy. I think because I manage to work out my anxieties while I'm awake rather than asleep.
The identity dream fits well with all the work we've been doing around the house. Sunday we needed two cars to schlep the FIFTEEN bags we had filled to the Salvation Army. FIFTEEN and yet our house is still filled with crap and looks a mess. Georgie started moving things out of the room that will eventually be the baby's which means I have to now SHARE the spaces I've called my own for the last ten years. Not too much resentment here. I walk into my closet and there's all of his STUFF.
It's okay. I'll get used to it. And it's not like we're all freaked out that the room won't be ready for the baby, per se. I mean, the furniture and stuff won't be delivered until AFTER the baby's born – it's that we have 16 years of accumulated CRAP that needs to be weeded through and thrown out and the baby is just an excuse. I keep telling myself that this is a great exercise because hopefully sometime in the next year we will be moving and there won't be as much to throw out when we do!
It is a daunting task though. Yesterday I actually got down on my hands and knees and vacuumed the base boards next to my bed and underneath my night stand. DISGUSTING. I told my sister and she said WOW – you really are nesting. Guess it's true.
I also did some knitting!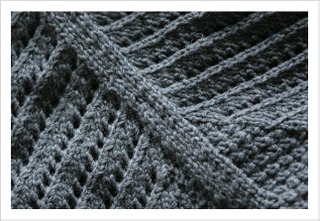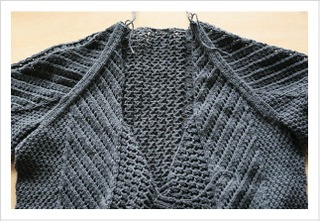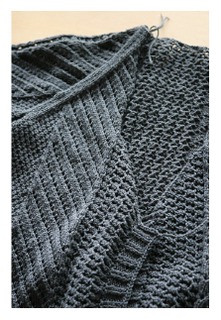 Friday – when we had no heat or hot water – it turns out a transformer blew in our building. So in order to fix it they had to turn off all of our electricity. They did this at 2PM. I thought GREAT! I'll get out my Creative (like an IPOD only BETTER) and listen to some podcasts and finish Oblique's sleeves! Only the Creative was dead. So I knit to the tune of jackhammers (they had electricity, of course) until the sun went down. Then G came home and rescued me from the cold and the dark. Sometime while we were out, the lights went back on – as well as the heat and hot water.
I did manage to finish the sleeves. And I did the button bands on the body AND I seamed the raglans. All I need to do now is the collar, finish seaming and decide what to do with the bottom of the sleeves. I sort of draped it on my shoulders and this thing is HUGE! I think, it will get a bit smaller once it's all seamed up, but still – it's like a blanket coat! Which isn't necessarily a bad thing at all. I hope to have it finished by the end of the week. There's a chance I'm going to run out of yarn, but I have an angel helping me out. Margene has the yarn in her stash and she's going to send me a skein. Although, I think, now, I might be okay. Fingers crossed!
I knit something else yesterday too!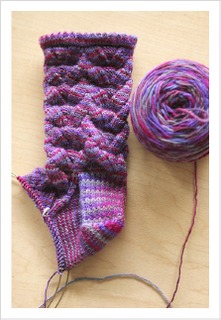 Believe it or not, I wore my first pair of monkeys Sunday night! We had a party to go to and I wanted some fancy socks in case I took my shoes off and I pulled a pair of monkeys out of my sock drawer. I have never worn ANY of the monkey socks I knit! NONE! I mentioned that I've been thinking about socks a lot lately and wearing them was so fantastic that I took out the Purple Rain STR Monkey that I started a million years ago – actually it was back in August. Last I knit these I was on the heel flap. Yesterday I managed to finish the flap, turn the heel and knit the gusset! All night long I kept telling Georgie how good it felt to be knitting SOCKS! This was all punctuated by the fact that I went through my "pedestrian" sock drawer over the weekend and got rid of EVERYTHING. I told G – once you've gone handknit – you never go back.
Thank you all for all your encouragement and support about my last post. I'm much calmer now (although we do have childbirth class tonight) and I'm handling my fears pretty well. I've been reading some stuff – stuff that pisses me off and makes me feel VERY judged and stuff that assuages my fears and lets me know that whatever I want is truly fine. It seems to me that the baby will be coming out of my body – in some way shape or form and that's NATURAL. Nothing about this pregnancy started out conventional – so who's to say the end will be that way as well? I'm open. Truly open. And I think that can only be a good thing for my body as well as my mind. I have some very solid ideas about how I want things to go – and that really has more to do with how I want to be treated (with respect and honesty and intelligence) than the actual EVENTS that take place. I trust my husband implicitly that he will help me to have the best birth I can have. So thank you for your confidence in me. It means a lot.
Off to get rid of more stuff! It's so FREEING!
L, C