I've been writing this post in my head for days and I really hoped to have posted it yesterday, but first the plumber came over to fix the boiler then the baby didn't nap until late, and when I finally thought I had a chance, the gas company came over to check the horrific smell that's been emanating from our oven every time we use it. Ah the joys of home ownership/motherhood/life. HAHAHAHA! Like I'd want it any other way.
One of the things I've been thinking about is, of course, the passing of the decade. Having been born in a 0 year (1970 for those wondering) when the world's decade changes, so does mine. It's been particularly interesting for me this year because it seems that everyone keeps talking about how awful the last ten years have been and what a relief it is that the oughts (ought what? aught? whatever!) are over.
I turned 30 in 2000 and I was so super excited about it. For me it meant I wasn't a kid anymore and I fully embraced my adulthood. My 20s weren't the best and I couldn't wait to leave them behind. I was much more settled and self-assured and I was finally an adult that could do all kinds of adult things with (at the time) a limited amount of responsibilities. FUN TIMES!
The past ten years, for me, have been the most fulfilling, most joyous, most content years of my life. So far. In the past ten years I became an aunt (almost) six times over. I became a wife. I became a mother.
I learned to knit.
I had my greatest professional accomplishments in that I had original fiction published four times. I started my own business. We bought a house. (The apartment we bought in the 90s.) The list goes on and on and mostly it's good.
I also survived some pretty devastating stuff – infertility the highest among them.
But I'd like to think I came out stronger and more self-aware and self-assured than I would have had I not lived through these things.
I guess it's true that the past ten years haven't been the best in terms of the United States or the world in general but for me they've been very full and fulfilling. I'm a little sorry to let my 30s go.
No fear though – 40 will prove to be just as exciting! Why just next week my husband will finally have the hip surgery, postponed three years ago, that should change his life for the better. Fingers crossed that his debilitating pain ends quickly and that he recovers and rebounds fast and furiously! He better because come Spring, we'll have another little one to contend with! YES! We're having a BABY! Our due date is mid-June (the actual due date varies depending upon which doctor you speak to) and so far everything is great. And by great I mean that I feel like crap all the time (just like the first.) I'm just about 16 weeks now and for the first 13.5 I was sicker than with Meli, but I actually think I'm a bit better now than I was with her at the same time. So maybe it won't be as bad the whole way through. Trust me when I say you're glad I wasn't around when I was really sick though because I was REALLY sick and not an ounce of fun.
For the curious few, we did a frozen embryo transfer again and everything worked perfectly, just as it did the first time. We are extremely lucky and know it. We tell ourselves all the time.
So here I am, forty and knocked up. Want to see a picture? (No belly – just me and my girl!)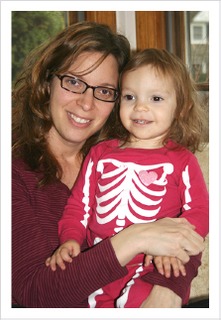 Anyway – there we are. The picture was taken last Monday and I still can't believe how long our hair is! Someone needs a comb!
Let's start the year off right, shall we? Just yesterday I finished a pair of birthday socks for myself:
I have been waiting to use this sock yarn, STR Lightweight in Crazy Lace Agate, for years. Some how I never got around to a jaywalker with it, and then I tried a number of patterns but never really found anything I loved. To stripey for a Monkey. But I never really wanted a plain stockinette sock. Enter the Sunday Swing Sock from Knitty. Completely perfect for stripey sock yarn – it knocks the stripes a little off balance and has just enough change up in the pattern to make it NOT a plain old stockinette sock. I used a reverse chart I found on ravelry for the second sock for a mirrored pattern. Damn fine if I don't say so myself!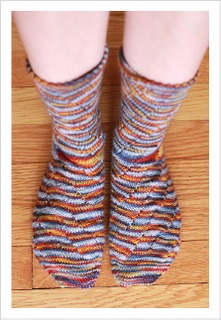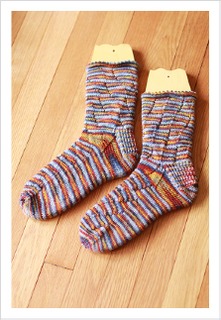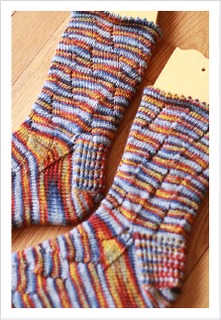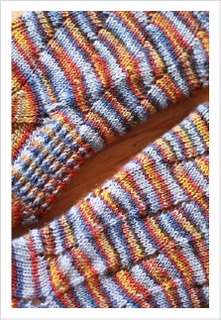 Knitting was scarce for a while when I was feeling so sickly, but I feel it coming back with a vengeance. One of my goals for today is wind up yarn for a baby gift for an upcoming niece or nephew – birthday surprise – so I have some good and easy hospital knitting. And there are countless socks that need mates, so there's always that. And for a birthday present today, I bought this. Now to find the right yarn….
I'm not sure how much I'll be writing in the coming months. It's really so hard these days. Meli is almost two(!!!) and is constantly telling me to put whatever it is I'm doing down and PAY ATTENTION TO HER. Sleep is scarce around here as well and I'm tired. The computer isn't where I'm at most days. If it wasn't for my smartphone (I'm a DROID girl) I would never know anything about anything. Unless it happens on Sprout. So pathetic.
If I'm not here please know that I'm thinking about you. This blog has been a major part of my life for just about half the previous decade. Scary to think, but it's true. I have treasured it – AND YOU – for there is no it without you and am so glad it all came into my life. Whatever happens to this blog – whatever iteration it takes on – it will always be a hallmark of my 30s and I will never forget the friends it brought to my life. Thank you so much for reading.
I wish you all a wonderful new year and a fantastic decade to come.
L, C