for Mim!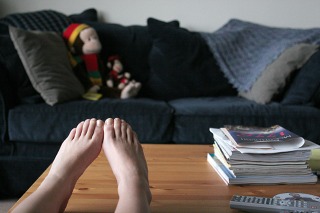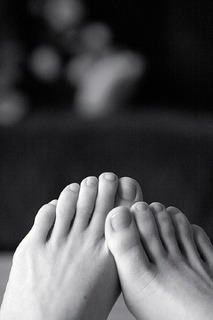 Fresh out of the shower! Happy Blogiversary Mim! Mim is asking for pictures of feet for a contest – go enter – you have until Midnight tonight. (But Katy, please refrain from showing your freaky bumpless feet yet again!)
Now yesterday, buried among the Junior Caramel accolades and AEC woes, was a contest of my own. Barbara was my 3000th comment! YAY! She will get an extra special something from Rhinebeck. My own blogiversary is this month – so expect another contest toward that day, which I think is somewhere around the last week.
I woke up yesterday morning – I don't know what time – to find that sometime in the night the power went off. My husband has a thing about time – not being early or anything – in fact he's frequently late – he just has a thing about clocks and time. All the clocks in our house (of which there are many) are set to atomic time or nuclear time or whatever kind of time is the most accurate BEST time. So when the power goes out and the clocks all over the house are blinking, G can go a little bit nutty. But of course this was discovered in the morning and things were already a bit hectic (read late for work) so he didn't fix any of the clocks. I'm a bit reluctant to fix them myself because god forbid I don't set them right, but I couldn't stand the blinking.
Last night I was in bed finishing up the buttonhole band on AEC when all of a sudden everything flashes off. I'm sitting in the dark. Georgie and I call to each other in the apartment – he's cursing up a storm because he had just spent an hour on the computer and lost everything – and he just finished FIXING ALL THE CLOCKS!!!!! It was about 11:30 I think. I finished up the button hole by flashlight and lemon verbena candlelight. It doesn't matter though – it needs to be ripped. The button holes are too big. I started with four stitches, went to six, ended up with five. They need to be four. They should be a bit tight right? Anyway, back to the clocks. We went to sleep eventually – isn't it funny how quiet things are with no electricity? – and when we woke up the power was back and the CLOCKS ARE ALL BLINKING AGAIN! So distracting.
As soon as I finish this, I'm going to put on my gas mask, spray every surface of my house with Tilex, and rip and finish my button hole band. Then sew on the sleeve. Question – what's the best thread to use to sew on buttons – regular sewing thread is too thin right? Do you need something like needlepoint thread? The yarn is too thick I think, unless I find one of those really thin pieces.
Before I forget!
HAPPY BIRTHDAY JEDDY!
Love,
Sistah C