Jumping on the bed!
One fell off and bumped his head.
Mama called the doctor and the doctor said,
"NO MORE MONKEYS JUMPING ON THE BED!"
The monkey thing never gets old, does it?
Just this morning I finished my STR Dutch Canyon (Lightweight) Monkey Socks and I love them! So much so I'm casting on another pair this afternoon – using Margene's FAB mod – the picot edge! Truly the new jaywalker has been born. I'm taking a chance with the new pair and going with the old put up – 325 yds – so we'll see how I do.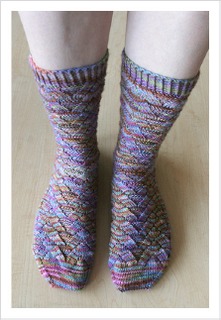 (Oh yeah – and to all the people that questioned the validity of a DUTCH Canyon since Holland doesn't seem to have any, Dutch Canyon is an area in Oregon near to Blue Moon Fiber Arts headquarters. I've got an answer for everything!)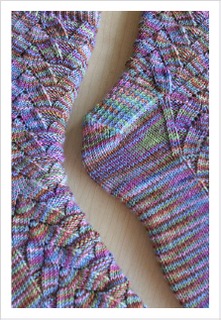 In the meantime, a baby or a book?! That's the best you could come up with it? Where's your sense of adventure? Your sense of imagination? Mad props to those of you who thought things like – creative director of Red Heart – what was it? Acrylic Czar? HAHAHAHAHA! And especially to Kathy – she thought I might be taking over for Rosie at the View. Not on your life, my friend. Not on your life.
You'll all just have to have a bit of patience. All will be revealed in time. Including what to do with miles of acrylic. I couldn't get it together for today, so you'll have to wait for Tuesday. I hope I don't disappoint.
Have a great weekend everyone! Long or otherwise!