Since I haven't been able to fix the hole in my sanity, I decided, as a diversion, I'd fix the hole in the pinwheel blanket.
Remember this?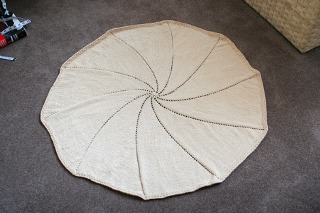 It's the baby blanket I made for my nephew, who's now, oh I don't know, FOUR MONTHS OLD! Have his gentle fingers ever touched the blanket? NO. Has he ever been wrapped in the love I infused it with when I made it? NO. It has sat in my den, lonely and unloved, because of this: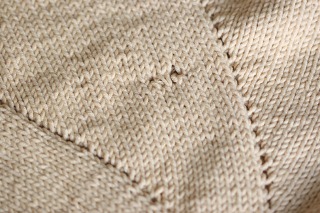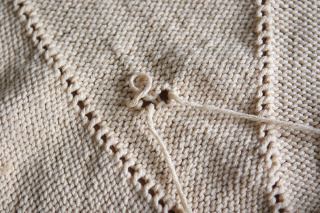 Time to fix this bad boy. First, I ripped back the bound off edge just past the holes.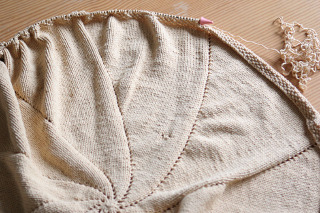 Then, with the live stitches now secured on the needle, I started dropping stitches.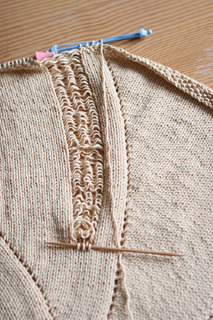 And then I picked them up, one by one.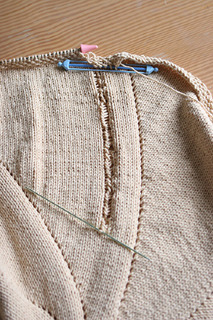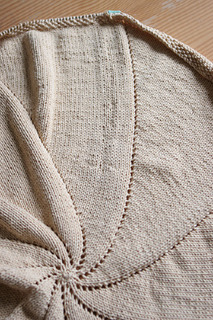 Here are a couple close-ups of it finished: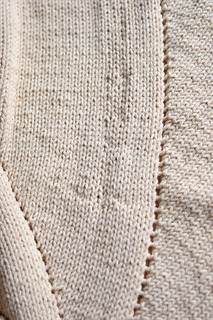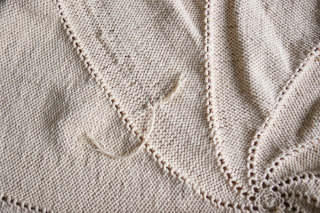 It's not the greatest fix in the world, and honestly, I don't think Eli will care. I actually don't really like the blanket. I mean, I like it – I like the pattern and I like the yarn – but not necessarily together. You know what I mean? If you're looking for truly inspiring pinwheels, Larissa's got a great gallery going on. I think, eventually, Eli will get another blanket. One I'm happy with.
Okay, well that didn't take nearly enough time, LOL. Trying to get through the days here folks! I did cast on the front of Short Rows, I've got about eight more rows before the first set of short rows starts. And I've been enjoying The Diamond Fantasy Shawl. I'd highly recommend it to people starting out with lace. It calls for a sportweight yarn so you don't have to fuss with lace weight and the charts are really nice to follow. I've only had one mistake (knock wood) so far and it was because I threw in an extra yarn over.
Don't Believe the HYPE!
That concludes the knitting portion of today's post, so you can leave now if you don't feel like hearing about my misery. That's right – I'm STILL MISERABLE! I've gotten some nice emails from you good folks thanking me for sharing this part of my life, so I feel like why not?
Here's a little bit of the problem – imagine you're standing on a high ledge (doesn't even have to be that high) and you're looking over the side. What's the first thought that comes to your mind? What if I fall over? Or what if I were to jump off? I'm sure everyone has thoughts like this – it's the situation – the thought comes in and goes out and bang you move on to the outfit the woman to the right is wearing (what is she CRAZY?!) What I do is think those same normal thoughts – but somewhere inside a twist happens and the next thing I know I'm wondering if I WANT to jump off. Or WHAT IF I lost control and jumped off? Then I'm thinking what the hell is wrong with me and then I CAN'T STOP thinking and the next thing I know I'm in a panic attack. And then I can't get out of my head. The thoughts just go over and over themselves and no amount of rationalizing (They're just THOUGHTS! They don't MEAN anything!) can help. Eventually I can get out of my head – but that's where the anticipatory anxiety rears it's ugly head. Those niggling little thoughts like – you don't have the thoughts now, but WHAT IF they come back? Ooooh. They would be BAD. So you worry so much that the thoughts will come that, DUH, they DO come back.
This weekend I played 5,301 hands of solitaire. Trying to get out of my FUCKING head. Thoughts on high balconies are nothing – try adding in some about your precious home life that brings you peace and security and that'll really knock the wind out of you. DON'T BELIEVE THE HYPE!
I'm getting angry about the whole thing. I haven't seen my shrink in over three weeks and I finally have an appointment tomorrow. I'm also not eating so well, which only perpetuates the whole cycle for me. I can't eat when I'm anxious – I get really nauseous. Weight Watchers Schmeight Watchers. Try some crazy when you want to drop that last ten pounds.
I'd spin, but my body is so tense I don't know what I'd do to the yarn. The kink could probably launch a space shuttle.
Please don't leave me comments like feel better soon. I WILL get over this. I always do. I'm fighting to get my life back. It's only a temporary situation. I KNOW this – it's only when you're in it that you think you'll never get out. In reality, I do all the things I need to do during the day – I'm working, I'm living – if you saw me walking down the street you'd thing – wow – who's that hot girl? (You know, because I've lost all this weight! 😉 ) I only blog about this to possibly help someone else. I'm past the pity stage, so don't throw any this way.