Seriously – I completely peed in my pants jumping off the sofa after THE CATCH. We were taping the game and watching it on tape so we were a couple of minutes behind and I told G to pause it so I could clean myself up – best pants pee of the entire pregnancy! – and when we started the game up again we could hear the people upstairs screaming and yelling. So we knew they scored the touchdown. It was the only bummer in an all around thoroughly enjoyable game! The baby was STOKED! I swear to god – when the Pats scored their touchdown to go ahead 14-10 the baby kicked me so hard and so violently there were tears in my eyes. When the Giants won? Only lovely rolls of contentment. This baby knows where it's AT!
Anyway – enough of football. There's knitting to talk about!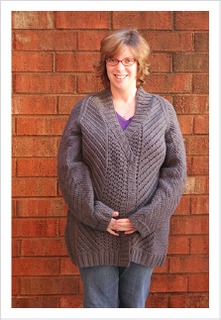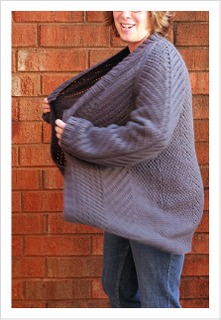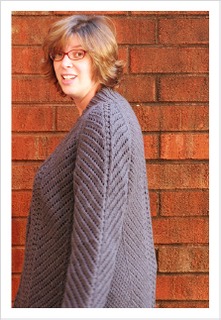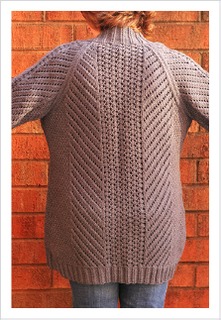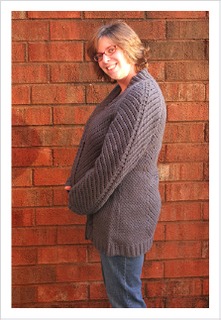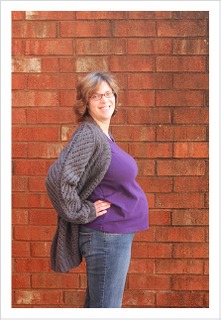 Before I talk about the sweater, can we just discuss how FREAKING HUGE I am?! I must have popped or something because people keep (or kept) telling me how little I am belly-wise, but I don't think I look little in these pictures! JEEZ!
The other night I was trying to fall asleep and I kept getting this itchy tingling electric sensation along the top of my belly. I'd scratch it and tickle it and it'd go away and then just as I was falling asleep it would come back. For like an HOUR. Ann said it was my skin stretching. (Apparently "skin" is an okay word.) Anyway – so here I am. Huge. And 33 weeks.
The sweater! It looks HUGE too. Somehow it doesn't seem as big on as it looks in the pictures. I lightly blocked it by rolling it up in wet towels and laying it out hoping it wouldn't grow too much. The only thing that really changed were the sleeves and they seem to have gotten longer. I need buttons for it still. But otherwise, I really like the sweater!

Oblique
Pattern: from Knitty, by Veronik Avery.
Yarn: Beaverslide, Catbird, 90% Wool/10% Kid Mohair. I used about 6 3/4 skeins. FABULOUS YARN! ABSOLUTELY one of my favorites. I can't wait to use it again – and I will.
Needles: Addi Turbo, US size 9 (5.5 mm) and 10 (6.0 mm).
Pictures: By Georgie. I'm not sure why he puts up with my and my photographer ways. It's so hard to relinquish control!
What did I change? Well, for one thing, I did the bottom ribbing on size 10s per Emily's comments here. I used ThatLaurie's modification for the sleeves – knit them with provisional cast ons and went back and added ribbing at the end. They still turned out too long, but oh well. I made the body a bit longer and definitely made a size larger than I normally would have. (I made the 46″ chest version. I most likely would've made the size smaller if I wasn't as big as a HOUSE.)
I can say nothing bad about this pattern (very well written!), the yarn (one of my all time favorites) or the sweater! SUCCESS all around!
Tomorrow – SOCKS! Or maybe the new project. No, most likely SOCKS! I have a finished pair! YAY!
Thanks for reading!
L, C
PS – Lest anyone think we've been holding out, the word her was italicized in the poem I posted on February 2nd because the poet herself italicized it – not because I'm sending out any secret sex signals. We do NOT know the baby's sex. Thank you for speculating though.