I LOVE to give gifts. I love choosing the gift, I love putting it together, I love wrapping it – I LOVE seeing the giftee's expression. I really do. I'm very generous. Because of love the act of THE GIFT – more than the sentiment behind it. Do you know what I mean? It's got to be PERFECT!
So when I saw all the Secret Pal buttons I knew I had to get in on one. I eagerly joined SP4. Blah. Let's just say it did NOT meet up to my expectations. I tried to do a good job for my SP, and I think I did, but she was very preoccupied with lots of stuff going on in her life and we didn't make much of a connection. She was appropriately grateful and all, but there was no spark between us. My SP sent one package that really didn't fit my profile and then nothing until a nice gift certificate from Elann. Which helped me buy a swift so I was grateful for that, but again, no real contact. Next to nothing spark.
So when I was approached to join a small intimiate gathering of bloggers who would be better pals, I jumped at the chance. We all sort of know each other, or know someone who knows someone, so the odds are that there won't be much disappointment going around.
Well, today I received my first BETTER PAL package! Yay! I was SO excited. The thing that sort of makes this gift exchange unique is that since we're such a small group – the secret can almost leap out of the bag. My BP does not live in my country, apparently, from the postage, and I'm relatively sure I could find out very quickly who she is! But I HAVEN'T BP! I don't know! And I vow, right now, on my blog, to do my best NOT to find out! Okay? Okay.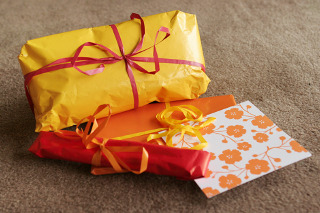 Look how bright and cheery! I couldn't wait to rip all the packages open. In her note, BP says she wanted to go with an autumn theme – and autumn she did!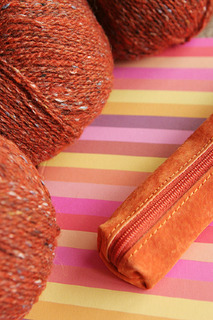 That's three balls of Rowan Felted Tweed in the new Ginger Spice color! Luscious! I've never knit with this yarn, but I'm raring to go. When I picked it up the first thing I thought of was MITTENS! (Or gloves?) The yarn is perfect for that, don't you think? Nice and warm and cozy! And there's an orange suede pencil case – which I think I'll use for knitting doodads – I don't want to mess it up with pencils. And a gorgeous notebook that will hopefully inspire some writing. Thank you thank you thank you BP! Can't wait to hear from you again!
~+~+~+~
I've taken some editorial license over at Knit One Read Too, yet again. Instead of taking regular nominations, I've decided that this month's book (discussion will start on October 17th) will be a book set in New Orleans, as a way to honor the city and its citizens, as well as a way to travel through literature. I've never had the chance to visit, and I'm sorry for that now. Each book is VERY different, and if you're a member, head on over to vote. If you're not a member, but would like to be, c'mon and join. We're just getting back after the summer, so you haven't missed anything yet.
Have a great weekend everyone! See you on the flip side!
L, C