It's that time, everybody! A BABY Contest! I've been thinking about this ever since I got pregnant, so here it goes!
There was a bit of a wrinkle thrown into things because I will most likely know ahead of time the baby's birthday, but we still don't know the sex, or the weight, so that's what I'm going to have you guess.
Send an email to baby@januaryone.com with the following information:
1) Baby's Gender
2) Baby's Weight
3) And, in case of a tie break situation, please add your guess for the baby's first initial. Two letters – one for a boy and one for a girl. These initials will ONLY be used in the event that two or more people come up with the same winning answer.
ONE ENTRY PER PERSON. EMAILS WILL BE ACCEPTED UNTIL 11:59 PM EST MARCH 5, 2008.
DO NOT LEAVE YOUR ENTRY IN THE COMMENTS!!!! ANY ENTRIES RECEIVED VIA THE COMMENTS WILL BE DISQUALIFIED.
This is how it's going to work – the person who gets the sex right and the weight right wins. If no one gets both right, the person who gets the sex right and comes closest to the weight WITHOUT GOING OVER wins. In case of a tie, the person who gets the sex right, the weight right AND the first initial right will win. If there is no one who does this, the person who gets the sex right, the weight right and comes closest to the first initial WITHOUT GOING OVER will win. If after all that, I still have two people who get it right (or more) well then, all will win and I'll be expecting lottery numbers whenever MEGA is over 100K.
Here's some info for helping you decide:
Pictures of my belly – taken this morning.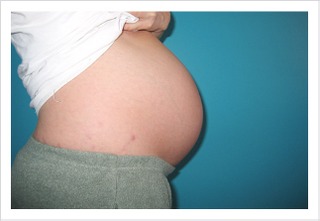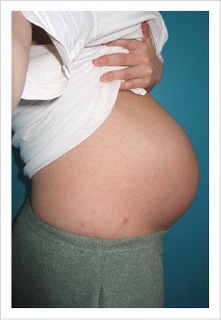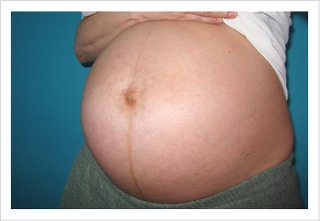 See how high I'm carrying? Great for bladder control, sucky for indigestion. Currently I am 36 weeks, five days. When I had an ultrasound the other day I asked the OB if the baby was big and she said, "not particularly." Remember, babies gain about a pound a week in the last month and my baby will probably be born before 39 weeks.
So far I've gained a tad under 30lbs.
I was 6 lbs 2 oz when I was born a few days before my due date. My husband was something like 9 lbs 14 oz. (God bless his mother!) I'm pretty sure he was full term.
Not sure what else you need to know. Oh yeah! The PRIZES!
There will be ONE GRAND PRIZE! (One baby – one prize!) You will receive a $25 Gift Certificate from Blue Moon Fiber Arts AND a $25 Gift Certificate from The Loopy Ewe! PLAY ON!
Dudes! I'm having a baby!!!
PS – Happy Birthday Dani! WHOO HOO!