Lots and LOTS of prizes this week – so let's get right to it! I'm very pleased to announce that our total as of this morning is $14020! THANK YOU!!! Don't forget – the registry doesn't close until OCTOBER 15, so there's still PLENTY of time to get in on all the prize action. All it takes is $10 and a dream!
Here are our new vendors just added to the sidebar! THANK YOU EVERYONE!
Artsygal
Jennie the Potter
The Knitting Nest
Schrodinger Originals
Skylark Yarns
Unravelled
Wool2Dye4
The Yarn Museum
Yarntini
Zen Yarn Garden
And away we go!
I love these prizes! First off, we've got a hand turned spindle from Wooly Wonka Fibers. Anne headed my call for spindles! YAY! THANK YOU ANNE! And Helen, well, Helen of Painted Skeins went above and beyond! She sent us three 4oz braids of Merino SPECIALLY DYED IN SPIN OUT 2007 COLORS! How FANTASTIC is that?! THANK YOU HELEN! I LOVE IT!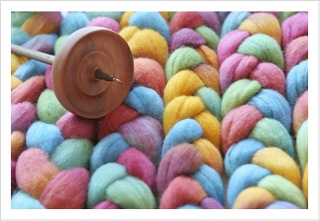 Jennifer over at Woolgirl sent us THREE sock yarn packages – all with two skeins of sock yarns and stitch markers and all kinds of good stuff – and a Mama Llama bag as well! Fantastic prizes! THANK YOU JENNIFER!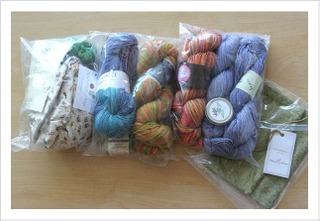 Terry from Crash Into Ewe outdid herself with three different skeins of sock yarn and two different rovings! THANK YOU TERRY!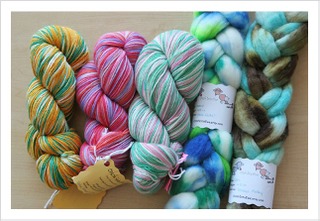 Lots of prizes here! Allison at Simply Sock Yarn sent us a gorgeous skein of Fleece Artist sock yarn in the perfect Fall colorway! THANK YOU ALLISON! From Roxanne at Zen Yarn Garden, we've got two different sock yarns – one has an accent color for heels and toes! THANK YOU ROXANNE! And finally we've got two sock yarn bags from Tipsy Knitter – so cute! THANK YOU!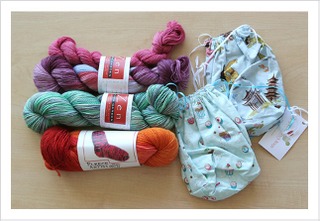 How lucky are we?! THREE skeins of the much loved YARNTINI sock yarn! WHOO HOO! THANK YOU JESSIE!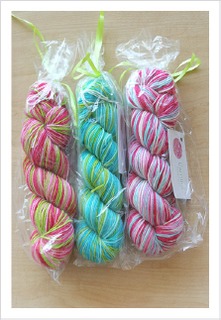 Jenny over at Woolly Boully sent us some gorgeous sock yarn and roving! THANK YOU JENNY!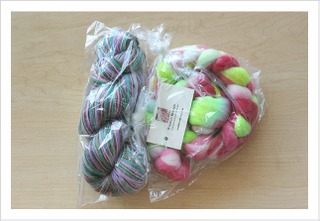 Lisa Souza's done it again! Three different sock yarns and some beautiful roving! Lisa's roving was one of the first I ever spun and it was a DREAM! THANK YOU LISA!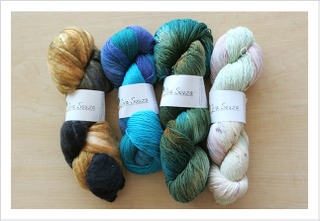 Lorajean over at Knitted Wit sent us a gorgeous roving of South African wool and a beautiful skein of sock yarn – but better than that, she's donating half her sales to HEIFER until October 14 or she runs out of stock! SO GO BUY STUFF! THANK YOU LORAJEAN!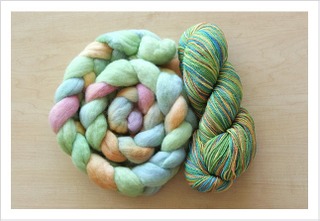 Here we've got a GORGEOUS handmade knitting bag from Actual Size Creations! It's called Lone Star and it's got a great lone star on the front, plus awesome cowboy fabric lining it – AND it comes with a matching DPN case. FABULOUS bag! THANK YOU VALERIE!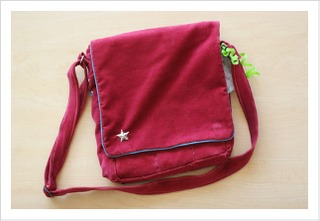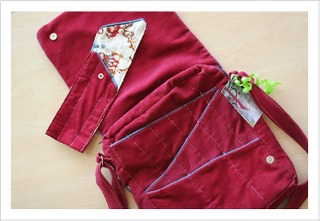 It wouldn't be SPIN OUT without The Yarn Museum representing! Linda has sent us two sets (4 boxes per set) of the fabulous notecards from Yarn Museum. Each card has a awe-inspiring image of handspun yarn. Creative inspiration doesn't get any better than this! THANK YOU LINDA!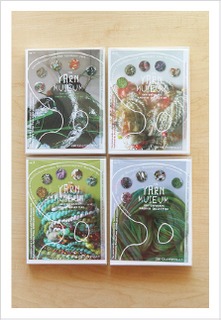 This next prize defies all expectations! Sheila and Michael Ernst have taken their expertise with glass and turned out a SPINDLE! This is the Lime & Violet spindle and it is so beautiful in person – I'm sorry my picture just doesn't do it justice. The
y didn't stop there, though, and included an absolutely STUNNING pair of GLASS circular needles and two of their stupendous buttons! THANK YOU SHEILA AND MICHAEL!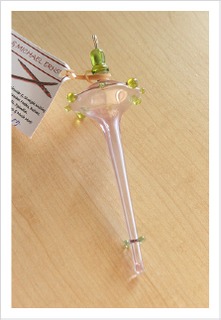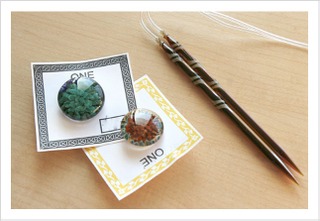 This is just a small representation of the fabulous prizes from SOAK and Azul Bath & Body! Jacqueline, from SOAK, sent us a great big box of wool wash – my favorite – including samples for the event on Saturday! THANK YOU JACQUELINE! And Kristi sent over some great sample sizes of her crafter's balm. THANK YOU KRISTI!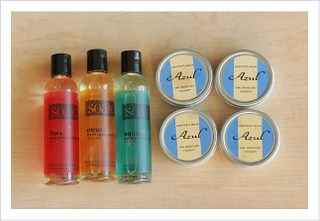 Stacy's in the middle of opening her new yarn shop, The Knitting Nest, down in Austin, TX, but she found time to send us a great prize! Four skeins of gorgeous single ply wool, some lovely lavender soap products, and a great collapsible knitting basket! THANK YOU STACY!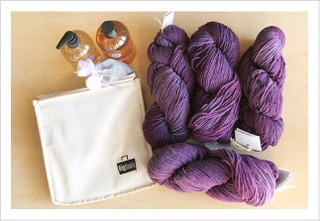 Meera, at Knitnack in Maplewood, NJ, was all kinds of generous! First up, we've got a BEAUTIFUL Offhand Designs knitting bag – it's just gorgeous! AND she sent us a Fleece Artist kit for the Imogen Jacket! Gorgeous stuff! THANK YOU MEERA!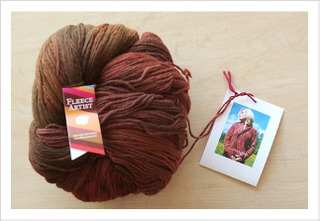 Not to be outdone, Linda LaBelle over at the Yarn Tree upped her ante – she's added a sock club membership to her 200 SOCK CLUB! This club is filled with beautiful, hard to find, indie dyed yarn. Here's the description for the 2007 Sock Club. It's not to be missed. THANK YOU LINDA!
THANK YOU ALL SO MUCH!
If you are a business and you would like to contribute a prize, please email me at prizes@spin-out.org . Also, if your name is not on this list and you feel it should be or there is a problem with your listing, please email me at the same address. THANK YOU! (HEY! YOU! Do you create or sell SPINDLES? I could use some SPINDLES for prizes. I like to make kits with all the wonderful fiber we receive. It's great for new spinners! THANK YOU!)
DONATE DONATE DONATE!
Please, if you haven't purchased a raffle ticket, do so now. Here's how it works:
For every $10.00 you spend on The Heifer International Gift Registry, your name will be placed in the proverbial hat for prize drawings in October. For instance, if you spend $50.00, your name will be put in the hat 5 times. You can win more than one prize if your name is in there more than once – we will not be pulling out names after a win.
VERY IMPORTANT!!!
Last year I realized that while I get registry data, I don't get exact donation amounts. To get your full raffle value, YOU MUST EMAIL ME THE AMOUNT OF YOUR DONATION! Please send an email, with RAFFLE in the subject line, to donations@spin-out.org. If you don't do this, your name will be placed in the raffle ONE TIME. THANK YOU!
THANK YOU THANK YOU THANK YOU!!!
Cross Posted at spin-out.org.