Look what came in the mail the other day?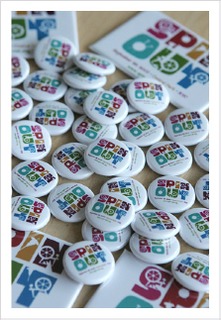 That can only mean one thing – SPIN OUT 2007 IS ON!! Apparently the weather gods intend to SHINE on me this year – although I should probably keep my mouth shut and not tempt fate. If you'd like to obsess along with me – click here!
I dragged Kay to scope out the sight yesterday and here's the lowdown:
Saturday, September 29, 2007 – 11 AM until 5 PM
Central Park, Cherry Hill Fountain
— Cherry Hill Fountain is best reached by the WEST 72nd St. Park Entrance. Go past Strawberry Fields (Forever) and keep walking on the path – as straight as you can go. You should come to a Daniel Webster statue and an information kiosk. Ask at the kiosk, but Cherry Hill Fountain is straight passed that – you go a bit to the left and you'll see a big clearing of concrete with the fountain in the middle. HERE is a map of Central Park. Cherry Hill Fountain is located in the South End of the Park.
— SEATING. There is a very limited number of bench seats available around the fountain. Wheels are NOT PERMITTED on any of the grassy areas around the fountain, but there's plenty of concrete available. (That's why they gave us this site.) If you absolutely MUST have a seat, I'd suggest you bring your own, as SEATING IS LIMITED.
— PARKING. This event takes place in NEW YORK CITY. Parking is pretty much non-existent, unless you don't mind paying exorbitant parking garage fees. (Like $40 per 3 hours in this neighborhood.) If you can, I'd suggest you take public transportation whenever possible. ABSOLUTELY NO CARS IN THE PARK.
— SUNSCREEN. The area where the event takes place has very limited shade. I'd make sure you bring sunscreen. Rumor has it's going to be a very sunny day. 😉
— FACILITIES. I have no idea if there are bathrooms around. There are definitely places OUTSIDE the park where you can find bathrooms, so be prepared. (And by that I don't mean bring your own port-a-potty, just know that you might have to leave the event for a bit to use a bathroom.)
— CONCESSIONS. When I was there yesterday, there were a few drink/ice cream vendors around pretty close by. I'm assuming they'll be there on Saturday. They'll be a rip off, but if you're really really thirsty…. Again, outside the park (not a far walk) is the Upper West Side with lots of places to eat. You might want to bring some snacks though.
— ABSOLUTELY NO BUYING OR SELLING. My permit states that I cannot sell anything. So there won't be any vendors at the event. And I won't be collecting monies for the Heifer Registry. If you'd like to donate to the raffle, please do so here.
— GENERAL BEHAVIOR. This sort of goes without saying, but my permit states we should act like human beings. No loud music, no destroying the area. No drugs. Etc. I had to pay a $200 bond to insure clean-up of the area – which I should get back if the area is clean after the event. So please, leave your area better than when you found it.
— IN THE UNLIKELY EVENT OF RAIN. I'm pretty much counting on this being a non-issue. If it turns out that the weather people really do hate me, and we have HORRIBLE rain like we did last year, I'm basically canceling the OUTDOOR event. (The raffle goes on as planned.) Unfortunately, I do not have the energy this year to kill myself looking for a place inside. Last year's place sort of fell into my lap at literally the LAST second. If that should happen again – great. If someone has a place in NYC they'd like to offer up in case of rain – great. But as of right now – if it really, really rains – it's off. If it's overcast and a bit drizzly? I'll be out there. Thanks for understanding. (Also note that the Parks Department DOES NOT offer rain dates. So this is it for the permit.)
— ALL ARE WELCOME! Please! COME! It doesn't matter if you spin or not. There will be plenty of knitters there happily knitting along. And if you'd like to LEARN to spin, there will be many many people to help you learn. Always wanted to try a wheel but never got the chance? I guarantee that you will be able to try a wheel. Not sure what to do with a spindle? I can guarantee you will learn how to spindle spin. I so hope to see you there!

JUST A REMINDER: The SPIN OUT 2007 Central Park event and the SPIN OUT 2007 Raffle are actually two separate simultaneous events. There will be NO PRIZES awarded at the event on Saturday. Prize awards won't happen until AFTER the registry closes on October 15. So there's still plenty of time to donate! Here's how:
For every $10.00 you spend on The Heifer International Gift Registry, your name will be placed in the proverbial hat for prize drawings in October. For instance, if you spend $50.00, your name will be put in the hat 5 times. You can win more than one prize if your name is in there more than once – we will not be pulling out names after a win.
VERY IMPORTANT!!!
Last year I realized that while I get registry data, I don't get exact donation amounts. To get your full raffle value, YOU MUST EMAIL ME THE AMOUNT OF YOUR DONATION! Please send an email, with RAFFLE in the subject line, to donations@spin-out.org. If you don't do this, your name will be placed in the raffle ONE TIME. THANK YOU!
I think that covers pretty much everything. If you have any further questions, please leave them in the comments. I hope to see many of you there on Saturday. I'll be the one sitting next to the bucket. 😉
THANK YOU ALL FOR YOUR SUPPORT!
Cross Posted at spin-out.org.