Yeah. You heard me. I said NUMB ass. Somehow or other, don't even ask me how, I managed to bruise a nerve located in my ass cheek and now it's NUMB. Like go to the dentist, shoot your face with Novacain numb. Like I can't stop touching it because it feels so weird but it feels weird when I touch it so I don't want to touch it numb. And, yes, I'm very attractive walking around with my hand on my ass all day. The doc said it could be like this for awhile too.
Like I said. Don't ask. But I'm sure DUMB had something to do with the NUMB.
I promised you a new monkey and here she is: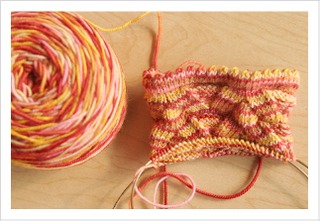 These socks are definitely SHE socks because a) they have a picot edge. I don't think I need to say much more about that. And b) the yarn is STR Chickabiddy. CHICkAbiddy. CHICA. They can only be girl socks. Girl socks for me. I'm not doing minis this time though – I'm going to do at least 6 repeats on the cuff. (By the way, the Chickabiddy colorway is not on the STR website right now, but I have it on good authority it will be back in the Fall.)
Off to block Moth. That's right. Me and my numb ass haven't blocked it yet. Whatta gonna say about that?