I know I said I was signing off for the weekend, but yesterday was so miserable I thought I'd share.
Last night I went to the mall in search of something to wear to my 20th Year High School Reunion having decided that everything I own doesn't fit and makes me look fatter and lumpier than I really am. That was a mistake. Not thinking that my clothes look bad on me, but going to the mall. At one point I was wandering aimlessly around Macy's trying to find something, ANYTHING, that would make me look not so lumpy and I caught sight of myself in one of the many fun house mirrors they've got hanging around the store: my shirt looked funny. I walked up to the mirror and took a good look at myself. After trying on the 100th unflattering outfit I could find, I had put my shirt back on BACKWARDS. I was so depressed that I stood there, in full view of men, women, and children, and turned my shirt around thereby letting everyone know that I can't DRESS MYSELF. It's a true story.
I even talked to my mother, complaining about how fat I've gotten, and NOT ONCE did she tell me how beautiful I was. Isn't that a mother's JOB?
And then, after buying a pair of jeans that tout "an instant tummy tuck" that I can't wear to the reunion, I sat in my car, in our parking garage, and listened to The River ten times, singing along at the top of my lungs while crying my eyes out. Doesn't get anymore high school than that.
The truth of the matter is that I'm very content with who am I and what my life is all about. I'd love my house to be cleaner, sure, and dropping fifteen pounds would certainly make things nicer, but overall I'm incredibly lucky AND I've worked very hard on myself and my relationships to get them where they are today. Generally I don't stress that much about my appearance (that's what happens when you spend most of your time in pajamas) but there's nothing like the thought of being around people that last saw you when you looked something like this: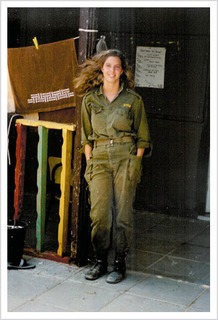 to spur you into self-pity. Granted, they never saw me in an army uniform and this picture was taken three years after I graduated from high school, but it's the sexiest picture I have of me. Things don't change that much from 17 to 20. 17 to 37? That's a whole other story!
Now I'm certainly not complaining about how I look now. I've grown into my face and my body and I know how to play my strengths. And most importantly, my husband thinks I'm beautiful and tells me so all the time. But there are (at least) fifteen extra pounds there and I am twenty years older. I can still rock it right? This picture is from a year ago: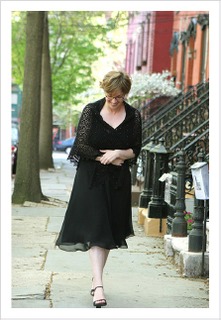 I still look like this. Maybe an extra five pounds but I wore this exact outfit to a Bar Mitzvah last month and I looked good. My sisters told me so. GOD BLESS SPANX!
Anyway. I found something to wear. (Note: not the outfit above. WAY too formal for this event. I'll try to get my sister to take a picture of me before I leave for the reunion.) Clothes I already had in my closet that I feel good in. My husband told me I look hot. And I'll have my favorite shawl around my shoulders. It never fails to make me feel elegant and beautiful. I decided on the outfit about ten minutes after getting home. Then I did what any self-respecting fat girl trying to get skinny would do: I made myself one of my favorite Lean Cuisines for dinner, curled up with Grey's Anatomy (anyone else think McDreamy is being a TOTAL DICK!), and knit on a sock.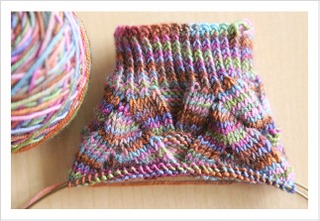 (My new pair of monkeys. Dutch Canyon STR Lightweight.)
I really am confident that tonight will be very weird, somewhat uncomfortable and ultimately fun! But just in case, I'm bringing along some knitting.
PS – Go congratulate my friend MJ! YAY! Mazel Tov!
PPS – Go help my friend Claudia!! I have. Now it's your turn! Do the right thing and win prizes to boot!
PPPS – This post is my own little pity party. No need to tell me how gorgeous I really am.