Do you see the pigs flying by?!?!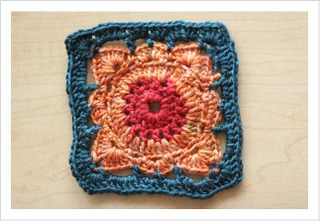 Yes, my friends. Your eyes do not deceive you. I have crocheted.
Here's what happened. First, Margene talked about crochet non freaking stop. Then Ann with the blah blah blah crochet crochet crochet. The final straw to fall was Vicki. She's making up songs about crochet! Yesterday I actually told her to shut up and knit already.
This morning, though, I woke up to a dream about crochet granny squares and that damn bag all my girls are making. The honest to god truth is that I want that bag too! So when I talked to Ann this morning, I asked her if she thought she could teach me to make the square over the phone.
Three and a half hours later – I had a square.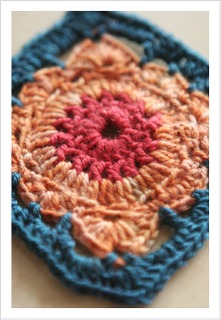 I'm not going to tell you that I enjoyed it – because I didn't. It was tough. At one point I started screaming in agony and Ann's going what? WHAT? and I yelled TOE CRAMP because my foot started to cramp up. She's all like, well then you're doing it wrong honey and duh I was so tense that my foot cramped. That hurts. Add in my elbow, my wrist, my shoulders and my back and WHOO HOO! Crochet is FUN! Seriously, I know that with practice it will all get better. I need a new hook though. I have a few lying around the house but none of them were the right size really and the one I used was way to small for the yarn (which is Heavyweight STR). The square is going to be a coaster because the gauge is so tight the damn square could stand on it's own. No drape, people. NO drape. Which might actually be good if I make this bag. We'll see. I'm going to get a bigger hook and try again. Maybe.
Ann was crochet teacher EXTRAORDINAIRE and we all got a little bit of help from Laura's crochet tutorial. Thanks Laura! All in all, I think it was a pretty good foray. Definitely room for practice.
I'm getting lots of practice on these: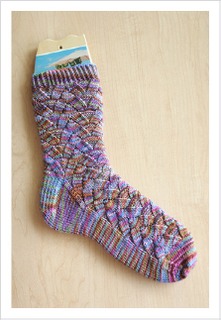 A finished MONKEY SOCK! Surprise, surprise! This one is Dutch Canyon STR Lightweight. Casting on for the mate as we speak. Still loving this pattern.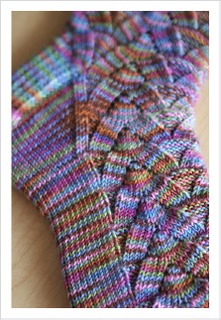 Thanks for all the nice comments yesterday about the kids and the pictures. Those kids are a HUGE HUMONGOUS part of my life and it's always fun to show them off. Alright – I have GOT to eat something. Too much crochet, not enough food.
THANKS ANNIE! FUCK THE YARN – YOU ARE MY LIFE GURU!!