I stayed up late and finished my first pair of Monkey Socks – and then I stayed up later watching Inside Job. Clive Owen and Denzel Washington. Nuff said.
First though, I want to talk about Knanette! Thank you for all your encouragement. Some initial work has been done and I can pretty much guarantee that this will not (at least not right away) turn into another miter madness. There are lots of kinks to be worked out, I think, and also, it's going to take a lot more planning on my part.
I need to say right off the bat that I take no credit at all for the construction of the square I'm about to show you. I was merely the workhorse. The genius comes straight off the brain of Kay. If you'll indulge me please, I'm going to take a minute to talk about Kay. She's a great friend, a fantastic host and most of all, she has been the single most influential person in my knitting life (besides, of course, my grandmother, who actually taught me to knit.) She has opened up possibilities to me that I never ever dreamed about. She has awakened my inner artist. Thank you, Kay, for changing my life for the better. You truly are my Kaffe.
Okay. Back to Knanette. Fifteen minutes on the phone with Kayye and I'm ready to tackle my miter in the round. I don't know much about crochet, but I understand that if you know what you're doing, those baby squares in Babette can go super fast. Not so with knitting. It will take CONSIDERABLY longer to knit this blanket than it would, most likely, to learn how to crochet from scratch, fuck things up a bit, then finally be on your way cranking out squares.
That's not an option for me. I don't want to crochet this blanket. I want to knit it.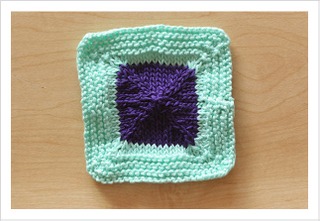 Kay and I decided (or really Kay decided) that by knitting the square from the outside in, it gives you the best way of knitting the blanket WITHOUT SEAMS. You knit a square, then pick up one side of that square and knit another one. And so on and so on. Kay also suggested the garter stitch border – which I happen to LOVE. I think it gives the square a decidedly granny FEEL while being VERY different from an actual crocheted granny square. This is how I knit the square above:
Cast on 96 stitches. Join in the round. (When you're casting on, you might want to place a marker every 24 stitches – this demarcates the four corners of the miter.)
Round 1: [Knit 10, k2tog, k2tog, knit 10] Repeat 3 times.
Round 2: PURL all stitches (For garter stitch in the round.)
Round 3: [Knit 9, k2tog, k2tog, knit 9] Repeat 3 times.
Round 4: PURL all stitches
Round 5: [Knit 8, k2tog, k2tog, knit 8] Repeat 3 times.
Round 6: PURL all stitches
Round 7: [Knit 6, ssk, k2tog, k2tog, knit 6] Repeat 3 times
Round 8: KNIT all stitches (You're now doing stockinette in the round.)
Round 9: [Knit 5, ssk, ssk, k2tog, knit 4] Repeat 3 times
Round 10: KNIT all stitches
Round 11: [Knit 3, ssk, k2tog, k2tog, knit 3] Repeat 3 times
Round 12: KNIT all stitches
Round 13: [Knit 2, ssk, ssk, k2tog, knit 1] Repeat 3 times
Round 14: KNIT all stitches
Round 15: [ssk, k2tog, k2tog] Repeat 3 times
Round 16: KNIT all stitches
Round 17: [s1, k2tog, psso] Repeat 3 times
You should have four stitches left. Cut your yarn and thread them threw the last four stitches pulling them together. Change yarns wherever you see fit. I knit my square using two circulars because that's the way I do things, but this pattern lends itself nicely to dpns seeing as it's all in fours and such.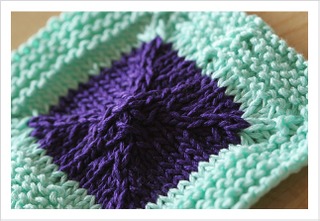 I just love the little bud in the center from the four remaining stitches. I LOVE this square. LOVE it. Some things I discovered: I think you really need to start with a stitch count, that when divided by 4, gives you an even number. I was going to try for a slightly smaller square, starting with 84 stitches, but the breakdown is 21 and when you're decreasing by 2 for the garter stitch rows, it's not so neat. Also, you need to knit three garter stitch ridges to get the stitch count back to something divisible by 3 so you can start the stockinette section and be able to get three decreases.
The worst part of this is that you have to cast on a lot of stitches. If I want to make a really big miter – I might need to cast on 400+ stitches. BUT you start decreasing at a very fast speed – 12 stitches every round. So you pay the price up front, but soon get to a manageable place. Re changing colors – I thought you might get a bad jog because you're knitting in the round – but the color change wasn't really noticeable at all. Maybe because really you're knitting flat? I don't know, but weaving in the ends seems to cover all ills.
The square above measures 4″x4″ and I really wouldn't go much smaller. I mean, I guess you could cast on 72 stitches, but it would pretty much be garter stitch. This is acceptable to me as my SMALLEST size. I tried a bunch of times to cast on the next square by picking up 24 stitches on one side then casting on the next 72 and theoretically it should all work. I kept messing it up though – didn't like my initial cast on. Twisted it when I went to knit in the round. Cast on too few stitches. You know. Bonehead stuff. I think I've got the cast on I want to use (cable cast on) and if I can just keep the round straight this should work pretty good. My plan is that I'd take a section of the blanket and attach those together – then move onto another section. So when it comes time to finish the blanket – you seam sections as opposed to individual squares.
As I said – this will take a good long while. I really want to plan things out – make up some rules color wise (already working this out in my head! It becomes clearer by the moment!) and layout wise. If I were you, I'd probably just learn to crochet. But, I'm a glutton for punishment. Don't expect much on this for awhile. I definitely LOVE my little square though!
Hey Hey it's the MONKEYS!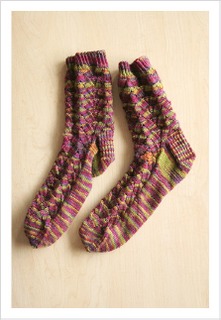 Poor sad little monkeys! Look how wrinkled and scrunchy they look! Dance MONKEYS! DANCE!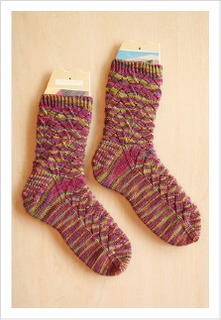 I totally agree with the assessment I've seen around the blogs that these socks look better blocked – they do. But only for their photoshoot. Don't let the scrunchiness fool you. They look JUST FINE on your feet – the best blockers of all.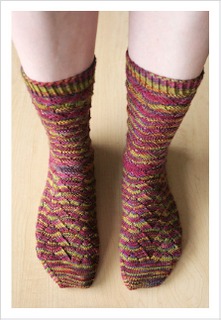 A thoroughly enjoyable knit, these monkey socks. EXTREMELY enjoyable. This p
air took me a week. And I would've knit them faster no problem if I didn't have other stuff to do. I used Socks That Rock Lightweight, in the Rare Gems colorway (which means that it was a "special" skein that didn't go as originally planned and then was overdyed and sold as a rare gem – these are one offs. This skein is UNIQUE.) I used Addi Size 2s for the twisted ribbing and the first two repeats, then switched to 1s. I love the fit – nice and snug. The only modification I made to the pattern was to do my standard heel flap and toe. The rest of it is as written.
I'm fairly certain I'll be making a bunch of these.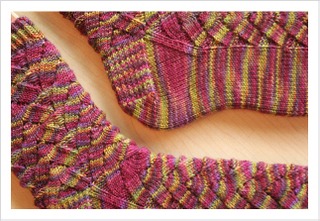 Okay, so I'm signing off for the weekend. My one friend from high school, the one I'm going to the reunion with, told me she bought a new dress. So I feel like I have to go shopping – especially since all the things I thought I might wear don't fit. On a happier note, I'm getting a pedicure! Have a great weekend – reunion details next week – and more Monkeys I'm sure!
L, C