Who could ask for anything more?!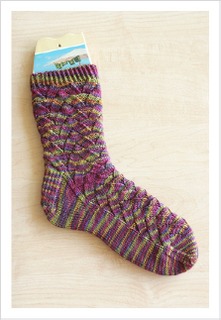 Sock modeled by my own personalized Leggy Creations Sock Blocker!
A fabulous birthday gift from Margene!
I finished my first Monkey Sock, and I've got to tell you, this could be my new Jaywalker. It's got everything I love in a knit – especially in a sock. First off, it's FAST. The repeat is only 11 rows so by the time you've knit four rows you're like oh my god I might as well finish the repeat. And there are only six repeats for the cuff so you can polish them off and be ready to split for the heel in no time at all. The pattern lulls you into the perfect rhythm that makes you knit faster and faster. Like the Jaywalker pattern. Like miters. Apparently, I like to be hypnotized by my knits.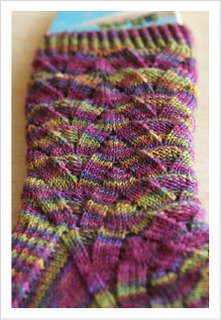 STR Lightweight, Rare Gem Colorway
While there is purling in the sock (I actually like to purl very much – but I HATE purling in a sock – I think, really, I hate ribbing in the round and on such small needles. Actually, I hate ribbing ALL the time.), for some reason it's not bothering me. I love how they fit – nice and tight. I did the twisted rib and the first two repeats on size 2s, like the pattern calls for, but then I went down to 1s for the rest of the sock. They're a little tight getting over the heel – but just like my Jaywalkers – they're nice and snug and they stay up GREAT!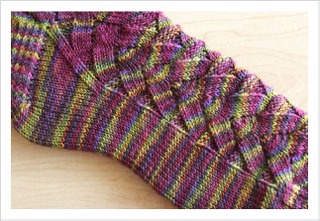 The foot is actually a smidge long – but otherwise I'd have to cut out a whole repeat and I'm not doing that – so they're a smidge long. No biggie. I'm already lining up all of my old skeins of STR (in the 325 yd put up) to make Monkeys! I think if I drop one of the repeats out of the cuff I'll be good to go. When I held them up to a pair of my Jaywalkers, the length is perfect with five repeats. I've got JUST the yarn to try too. WHOO HOO! Time for some sock knitting yessireebob!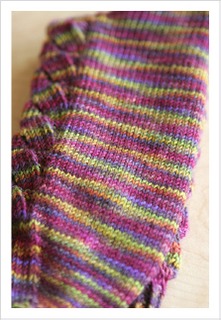 As soon as I finished the first sock, I cast on for the second. In no time at all, I have five repeats under my belt.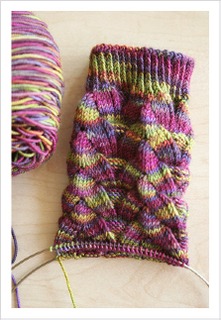 I'm gonna have a pair of socks before I know it! Just in time for Summer! 😉