Let me count the ways!
Firstly, it turns out I DON'T know what to do with miles and miles of acrylic. Oh I had grand plans, mind you, GRAND plans, but you know what they say about plans. Something or other about best laid and all that. My plan involved math and fibonacci patterns and my grandmother's recipe for afghans and intricate color combinations and it was all going to be SO GOOD. Then I sat down and cast on 257 stitches on size 9 needles, knit two rows and thought OH MY GOD I cannot do this. Ripped it right the fuck out. I will admit something truly horrifying to you: I might just crochet Babette yet. With my acrylic collection. You heard me. I realized, while I was casting on 257 stitches that I could have crocheted like thirty million squares in the time it took to just CAST ON. I suck. I know. Sue me.
The fact that I couldn't knit more than two rows of my most faboulous heirloom afghan might have to do with the fact that I've been hacking up a lung all weekend. A piddly annoying cold I had last week turned into HACKFEST 07 on Saturday. I worked really early in the morning and by the time I came home I couldn't stop coughing. A few hours later and I was locked in my dark dark bedroom with a pile of pillows over my head so I could cough without my brain exploding in a million pieces. I'm no stranger to the headache, but I thought I was going to die. Or throw up. One or the other and I'm not sure that they're not the same thing. I hate to throw up. I managed to sleep for a little bit and when I got up I was kind of okay and it's only gotten better since then, but Saturday sucked.
Also, it was hot. I hate being hot almost more than anything. So I stayed in the house this weekend and knit a lot. You know how I know I knit a lot? I have a brand new hole in my left hand index finger – in a completely different spot than the old hole – and a brand new callus/blister on the third finger (yes, THAT finger) of my right hand. Guess what? I've got something to show for it! Which leads me to reason number 2 why I am an idiot.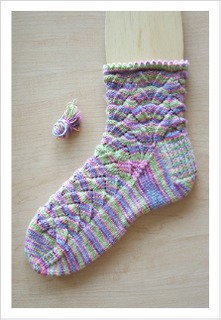 It's a MINI Monkey!! You may or may not know this about me, but I have A LOT of STR in my stash. A lot. Like, mindblowing amounts. (Although I bet there are a few people out there these days that could give me a run for my money.) Anyway, it's not about how much you have, but how well you use it. At least that's what I'm saying to you now. So, I've got a lot of it and a good portion of it is in the OLD put up, which was 325 yds. I'm beginning to think it was also a different recipe as well. This was before the days of lightweight and mediumweight and there was just ONE weight. Socks That Rock. I think the lightweight is a bit thinner now. Regardless, I thought monkey would make a great sock for my old put ups. I started knitting. I figured I could drop out one repeat on the leg and be good to go with my yardage. (Old put up=325; New put up=360.) I did Margene's picot edge mod and started knitting away like a champ. I was about three repeats from the toe when I realized that I was DEFINITELY going to run out of yarn.
This is where the idiot part creeps in. Last Friday I had a lovely conversation with Margene about our monkeys. Now, you may not know this about Margene, but she's 6′ tall. I'm 5'6″. So she's got six inches on me. And, as biology would dictate, she's got bigger feet than me. I'm about a 7.5 or 8 and she told me she's about a 9 – 9.5. So we were perplexed at the fact that she did six repeats on her Monkey sock foot and I was doing EIGHT. We talked about how I like a really boxy toe and that I start my decreases right at the tip of my pinky and only decrease down to 14 stitches on each side (28 total) and that she does a much longer toe because, admittedly, her feet aren't as pretty as mine. Which probably would account for ONE repeat on the foot, but TWO? What was going on here? Okay. Keep this in the back of your mind, but you're probably getting the drift of my idiocy, right?
So I'm knitting away. Like a champ. Then I realize I'm going to run out of yarn blah blah blah. I think to myself, I better rip out back to the cuff and cut out a repeat on the leg because I still need to get EIGHT repeats on the foot, not to mention the toe decreases. RIP RIP RIP and somehow I'm back to where I started five hours later or something. Now I've got two more repeats to go and the toe and I'm TOTALLY GOING TO RUN OUT OF YARN. AGAIN! And I've already dropped a repeat on the cuff. I don't want to RIP BACK.
Margene's in my head with her six repeats on the foot. My other monkeys were a little long, but just HOW long? I take out my most recent sock and try it on – but this time I let the heel fall where it should and I stretch out the toe a bit and DUDE! I've been knitting a freaking EXTRA repeat on the toe this whole time! DAMN!
I finish off the mini monky and put it on and the foot/toe is PERFECT. I can't believe what an idiot I've been! I must have put the ORIGINAL monkey on, thought it was fine where it was and cast off. Then, without thinking, I just copied that sock over and over and because it's been so hot I haven't been wearing them like I usually do. Sometimes I'll wear that one finished sock the whole time I'm knitting the second.
It's a good thing I figured out the problem because I had just enough yarn for the mini monkey with it's cute picot edge.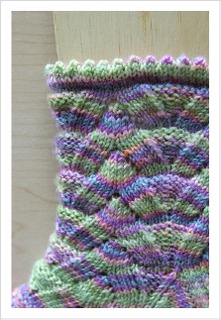 This yarn is STR Watermelon Tourmaline, by the way. Once I was done this sock, I did was every self-respecting idiot knitter does and went stash diving. I came up with another mini monkey: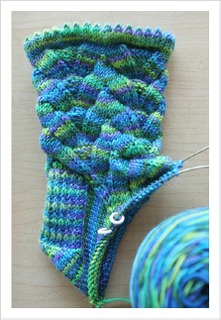 This is STR Seastone (which, I think, unfortunately, has been discontinued.) Hopefully I'll have it finished today and a modeling picture tomorrow. The cuff is pretty short – about 3.5″ – but it seems longer on my foot. Very cute! And now I know that when I knit another full size monkey (there will be at least one more pair) I can add an EXTRA repeat on the leg. I've also gone back and fixed at least one of the finished monkeys. They're so much better now. I'm an idiot, I swear.
Reason number three in the idiot dance is this whole I've got a secret game we've been playing. Now I feel like crap because you're all coming up with these great fantastic things I might be doing and I'm not doing any of them! You guys! I'm very flattered that you think I would be capable of all these feats but the truth of the matter is that it doesn't have to do with photography or a book or a new job – it's just a personal thing and it's HUGE in my life but maybe not so impressive in yours. So stop speculating. You're making me feel bad with your confidence in my abilities when, in reality, I'm an absolute idiot. Just ask Ann.
More socks tomorrow because I've turned into a factory. Really. It's sad.
PS – Happy Birthday Daddy! Happy Birthday Tina!