When in doubt, always, ALWAYS – and really – I can't stress this enough – ALWAYS! – go with what you know.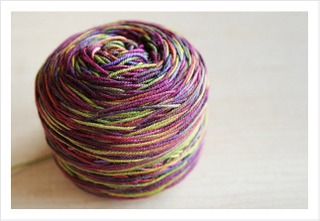 Socks That Rock, Rare Gem Colorway
KT hit it right on the head with this comment yesterday: "Aren't you the one who was just telling me that you only knit for yourself? My world is in disarray. I'm confused." YES!! YES!!!!! I ONLY KNIT FOR MYSELF!
Why did I forget that? There are many EXCELLENT reasons that I basically knit for myself. It wasn't always that way, but more and more and more it's become my reality. A reality I'm very happy with. I wanted to try linen and handtowels and maybe I'll still make a few for myself – but for now this project is deader than a door nail. I've never duplicate stitched and I don't want to rework a chart and I tried this thing and it didn't come out the perfect way it would need to come out for me to present it to my cousin in front of all the women in my family and besides, I can't give a gift that's not perfect, handmade or not. There was ALWAYS another gift – my sisters and I were ALWAYS going in on something off the registry – this was going to be my little side gift. No harm, no foul. What a relief!
Once I came to my senses, I did what any sane person would do and went trolling through my considerable STR stash. I've got stuff in there I don't even remember. Collector's Items at this point. I knew the pattern I was going to knit – I've been wanting to knit this sock for awhile – and I knew the type of yarn I wanted (something with a lot of colors and short repeats) so I went diving and came up with this: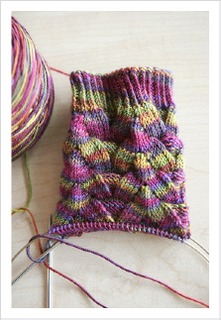 MONKEY SOCKS! By Cookie A! YAY!
I cast on late afternoon yesterday. I started the socks on Addi Size 2s – I like to do my ribbing on a bigger needle – and actually continued on 2s for two repeats of the lace pattern. (A lesson I learned from this sock.) I then switched to Addi 1s and did another two repeats. The pattern calls for six repeats – only 22 rows and I split for the heel! Now that's a sock I like! I love this yarn, it goes without saying, but I really love this colorway. Mostly because it's MINE ALL MINE! Rare Gems are mistakes gone gold in the STR world – no two Rare Gems are alike so no one anywhere will ever have this colorway EVER. MWHAHAHAHAHAHA!
The pattern rocks – it's easy – not too much purling (for some reason I have an aversion to purling in sock patterns. Actually it's just that I abhor ribbing.) And I'm loving the effect. I'm thinking it will be nice with some of my other handpainted coughnotstrcough yarns. What? Did you say something? What?
Honestly, I really would've loved to have gone back to the Katharine Hepburn Cardigan – but I have to read my knitting and figure out the pattern again and where I am and what I need to do. I was just about to finish the back and I was doing some alterations to the pattern and I need to check my notes (fingers crossed I remembered to write everything down.)
In the meantime, it's just like riding a bike.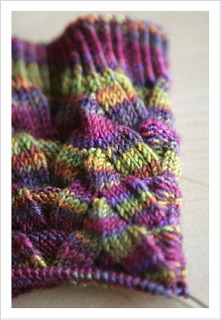 Some random stuff to talk about:
— Mark your calendars! WE HAVE A DATE! Spin Out will be Saturday, September 29, 2007 – Central Park, Cherry Hill Fountain, 11-4. Much more information to come in the next month or so, but thought I should mention this now. I received the permit last week or so and wanted to get it out there.
— NEW SOCK CLUB! Linda LaBelle, owner of The Yarn Tree in Brooklyn, NY, let me know about a new sock club she's started: A Sock Club For All Seasons. What makes this club stand out from some of the others is the talent she's got lined up – Cheryl Shaefer, Darlene Hays, Nancy Finn, Lori Lawson and others. These are PREMIER fiber artists and for some of them, their yarn is very difficult to get your hands on. There are lots of other goodies that come along with the yarn. Check out The Yarn Tree for more information.
— RAVELRY! Generally I'm one of those "wouldn't want to be a member of any club that would have me as a member" but this one is to good to pass up. The brainchild of Jess and her husband, Casey, Ravelry is a place to share project information, pattern information, yarn information, stash information – basically anything that has to do with knitting, spinning, crochet – anything FIBER related. Right now it's still in it's beta testing stages so membership is by invitation only – BUT you can get on the list for an invitation. Use the sign-up on the right hand side of this page. BE PATIENT! Ravelry is for everyone and it's exploding as we speak so get on the list and get your pictures up on Flickr (even I opened an account – something I've been holding back on FOREVER) and pretty soon you'll be stuck in the time suck as well. 😉
Have a GREAT day!
L, C