So I've changed the category name for the mitered blanket from Stripes (WAY pedestrian) to MADNESS because, honestly, it's much more accurate. If you would like to link to the category, all of the posts can be found here.
The dictionary defines MADNESS as the "quality or state of being mad." MAD is defined as:
Main Entry: mad
Pronunciation: 'mad
Function: adjective
Inflected Form(s): mad·der; mad·dest
Etymology: Middle English medd, madd, from Old English gem[AE]d, past participle of *gem[AE]dan to madden, from gemAd silly, mad; akin to Old High German gimeit foolish, crazy
1 : disordered in mind : INSANE
2 a : completely unrestrained by reason and judgment [driven mad by the pain MITERS] b : incapable of being explained or accounted for [a mad decision MITER]
3 : carried away by intense anger : FURIOUS [mad about the delay the fact that there's not enough hours in the day to knit MITERS]
4 : carried away by enthusiasm or desire [mad about horses MITERS]
5 : affected with rabies MITERS: RABID
6 : marked by wild gaiety and merriment : HILARIOUS
7 : intensely excited : FRANTIC [WHERE'S THE FUCHSIA!?!?]
8 : marked by intense and often chaotic activity : WILD [a mad scramble to knit a MITER in under an hour!]
– mad·dish /'ma-dish/ adjective
– like mad : to an extreme degree [spending MITERING like mad]
See? I've got it all! MITER MADNESS to the extreme. I know a lot of you have been inspired by this project and that makes my heart swell, but consider this a WARNING!! I will not be held responsible if your kids go hungry, your dog shits in the front hall by the door, your spouse/partner/significant other has no clean underwear, your dustbunnies have great-great-great-grand dustbunnies. I spoke with a lawyer about this and you can't blame me. I've warned you. That said, if you're still willing to take this crazy crazy crazy ride with me, here's more information than you ever wanted to know about this project so far. I figure I'm just about halfway through (maybe) so we'll update all this information at the end of the project. Like next Tuesday at the rate I'm going.
First up: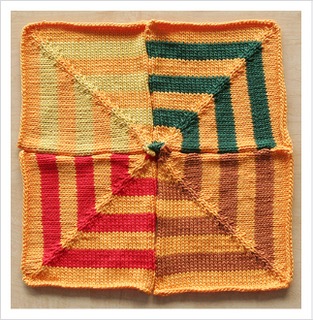 Square #12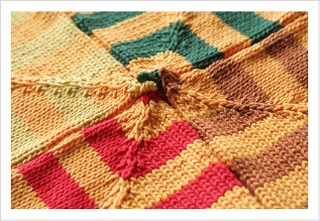 Here we've got Square #12, an autumnal grouping with the rare four background change. There's only one other square like this, but when I was messing around I found another one. This project is going to kill me for sure.
— So far I've knit 12 squares which equals 48 miters. My plan, RIGHT NOW, is to knit 25 squares for a pretty squarish blanket. The squares are measuring (lightly blocked) around 11/5″ x11/5″. I have no idea how big the final blanket will be. I'd like it to rest upon the top of my king size bed – so we'll see how big it needs to go.
— I'm using Tahki Cotton Classic on Size 6 Addi Turbos (knit flat – I only use circular needles.) The project was inspired by Mason Dixon Knitting and the formula for the miters can be found in the book on page 108. Suffice it to say I'm doing a 72 stitch miter.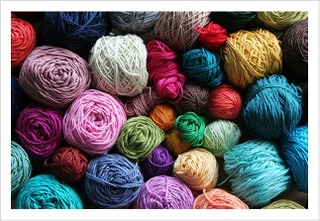 — At this point, I think I've used somewhere around 44 colors. I currently have 94 unique colors in my stash. There are colors out there I don't have and that makes me NUTS. So far I've been able to get five miters (a quarter of a square) out of one skein of TCC. I've purchased the yarn from WEBS, Flying Fingers and through the TCC Shopatron site. It seems to retail for around $5.50 a skein (sometimes more, sometimes less) and I've heard that Elann's Sonata is very similar (and much cheaper.) I've never knit with it though so I can't tell you anything about it.
— I can knit one miter in about 1.5 hours – depending on whether or not I fuck it up. And even though I've now knit 48 of these suckers, I still fuck them up. I can't count for shit.
— I am NOT using Kay's patented no-sew method. And I haven't sewn any of the squares together. That means I have 48, which is only HALF, that will need putting together. (Now do you see why this project has been renamed madness?!) YES, I will be sewing up 25 squares and YES I will be sewing those squares into a blanket and YES I will be weaving in all of the ends. I will not be cheating at this endeavor. Ends do not scare me in the least. Seaming does not scare me in the least. (See Short Rows and Verde Verde Verde.) This blanket will be sewn up and ends will be woven in and it will be finished. It may be a long while after I finish the squares, but it will be done. I promise you that.
— I didn't use the no-sew method because I conceived this blanket in squares – squares that go together. My only rules are that there is a dominant color for each square. It's hard to plan that all out if you're knitting four opposite corners together.
— I can't knit anything else. I don't sleep. When I can sleep, I don't dream anything else. I don't eat. I've stopped washing altogether (which really wasn't a stretch, by the way. I'm a dirty girl.) I basically can't DO anything else but knit these miters and it may actually be intruding on my life. It's MADNESS I tell you. MADNESS.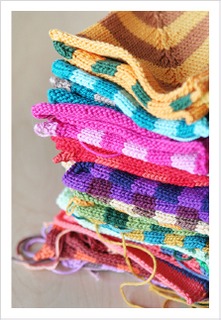 Have a great weekend! See you next week with GUESS WHAT?! MORE MITERS!