I'm not sure if that title is talking to you, my dear wonderful crazy-as-I-am readers, or I'm talking to me. I'm not sure it matters. To clarify a few things: I am smart enough to know that if people are talking about you, in whatever venue, that's a GOOD thing. They may be hating on you or loving on you or whatever – they have an opinion. The worst thing for an artist, or writer, or blogger, or person in general is INDIFFERENCE. It's when people AREN'T talking that I'm really going to worry. Also, I don't feel guilty about the squares or blogging about the squares, I feel guilty that they've truly taken over my life. My husband is a GENEROUS soul and he gets some kind of thrill out of seeing me in the middle of an all consuming project. He's seen that look in my eye whether I'm writing or shooting or knitting – he gives me glorious space to do my thing. But sometimes I feel guilty. He goes to work every single day so that I can have this joyful life and while I know that I take care of him well, sometimes I don't feel like I take care of the house well. And I feel some kind of Ozzie and Harriet guilt about that. Like I'm not pulling my weight. Although back a million years ago when we were dating I did tell him I was crazy and he should get out while he can – and he decided to stay – so really. It's his own fault.
And my last point for now is that I blogged about boring you all because it was something I started to worry about all on my own – before I read about it. I worry about you. I know there are a lot of you and I'm so grateful to you all and the truth is, is that I do feel an obligation to you all. To keep you entertained. It's not something that really affects what I have to say or knit or write – but it is there. I'd like to think you influence me way more than I influence you. If not – I don't think I would've kept up with the blog or love it as much as I do.
Enough with the metablabber. Eh.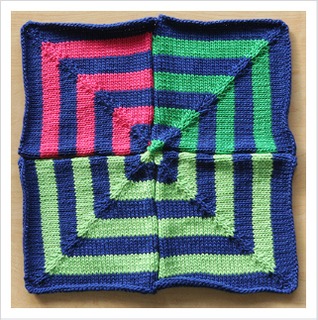 Square #13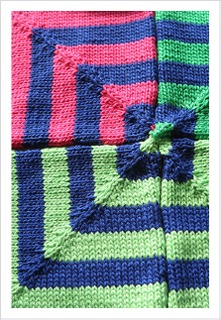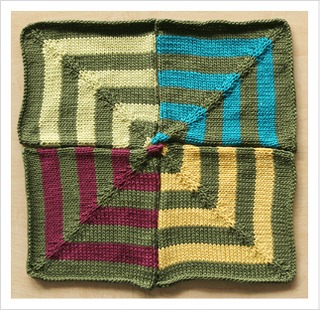 Square #14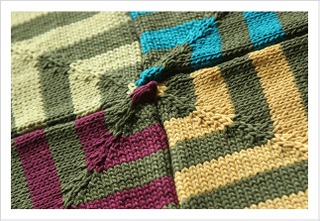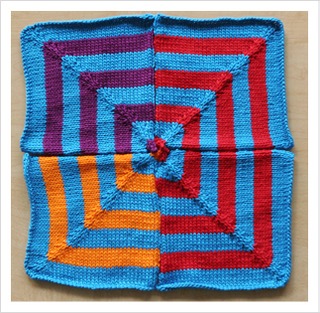 Square #15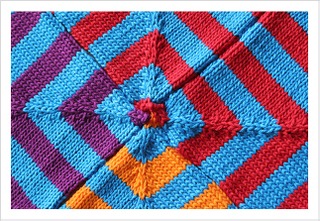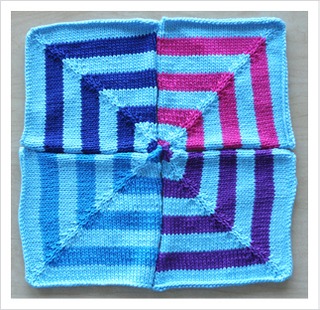 Square #16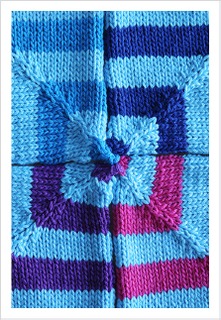 I was in sort of a blue mood this weekend. I hadn't used much blue at all. Oh and as much I still enjoying knitting the squares, photographing them is getting really tedious. The colors are hit or miss and I just don't care anymore. Even the focus is off on some of the above pictures.
I started a new square last night and in the THERE ARE NO NEW IDEAS department, I was shocked to see it in the New York Times this morning. (No. I haven't started hallucinating.) A little background. I need to use some yellow – real yellow in the blanket and generally I'm a few squares ahead of the knitting. I keep little groupings of color out and most of them are ready to go but sometimes I throw them aside. So yesterday I had a group of purples and greens with a yellow background and it was all Eastery and I didn't really love it. I was finishing up square 16 and all of my TCC was laid out on the floor grouped by color and there were some greens close to the oranges and also a turquoise pretty close by and I figured out the new yellow square: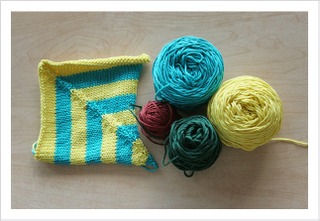 This morning, while I was scanning the front page I saw this picture: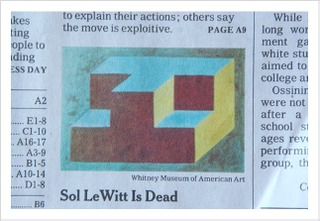 Sorry for the photograph of the paper.
I couldn't find the painting online and my scanner won't work.
It accompanied the announcement of the death of Sol Le Witt, an important Modern American artist (who, incidentally, I've never heard of – I'm more a Renaissance kind of girl.) How crazy is that? Guess I'm doing something right.
Tomorrow – squares, again, but in a whole new light.

Thank you all so much.
L, C