You didn't think I'd give up that easily did you?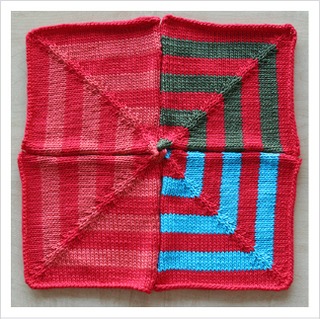 Square #9
All I needed was a little RED! When I posted yesterday I already had this square on the needles. So I posted, and then I went and knit for the rest of the day. Thank you all so much for your encouragement (like I need any!) and support with this project. Blogless Betty left a comment this morning saying,
"I know that feeling. You put a finish line in front of you by putting them together. Not a time line but a what it will look like line. Half the fun of knitting them is the anticipation of putting them together later and all the random possibilities. Kind of something to knit towards um like not knowing if it's a boy or a girl kind of thing."
That's EXACTLY how I felt yesterday – sort of like a premature birth. I still LOVE the squares. I still LOVE my rules. I'm not changing any of that up. In fact, the more I came back and looked at the montage, the more it grew on me. The pictures absolutely do not capture the richness of the colors in the squares.
Today's square has lots of red!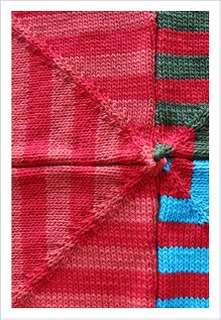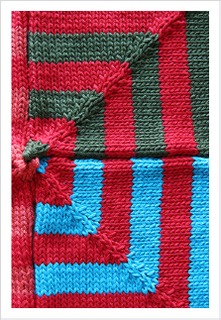 It's funny – from what I've seen, the Tahki Cotton Classic has a million shades of pinks and purples and greens but not a lot of shades of red. Maybe I'm not looking in the right place? I don't know. But finally some reds have come in. What I love about this square is that the blue and orange and green look okay together – but when I add the red all of the colors come alive. Margene and I had a very long talk yesterday about color theory. She tauted the amazingness of Deb Menz's book Color Works. (I actually don't have this one, Margene – I have the other one – Color In Spinning. Will be ordering this one ASAP.)
Margene was educating me on Value – or lightness – in color and how a successful square will need to have all the value ranges within it. So far she thinks I've been pretty successful. The discussion came out of the lighter yellow square I posted yesterday – she said that yellow is tough because if it's too light it will look like a big hole in the blanket because the eye will immediately be drawn there. You need enough dark to offset the light for BALANCE. Isn't that what we're all looking for in life? Balance? Balance leads to contentment. Contentment leads to peace of mind and I have ALWAYS said that we should strive for peace of mind. Happiness is so overrated.
Anyway – from now on I'm going to lightly block the squares, take a picture of them, show them here, then put the pieces in the large pile forming in my bedroom on top of a stack of knitting books on the yarn dresser. I love to look at the pile with all the different colors poking through and maybe when I've got sixteen squares done I'll morph all the square pictures together again. Until then, I'm going to bask in the glory of each individual square.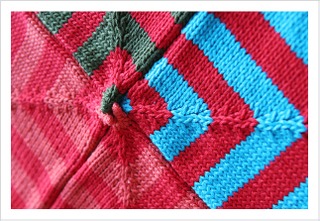 I've had a few questions as to the size of the squares – I'm estimating they're about 11″x11″. I would like the blanket to rest on my king size bed – almost like a coverlet as opposed to an actual sleeping blanket. I might go with 25 squares. We shall see.
Believe it or not, I'm off to Philly again this weekend. I've got a family Bar Mitzvah tomorrow, which will mean lots of hang time with my siblings. And then Passover starts Monday night. (Happy Passover!) I'll be back sometime on Tuesday and will try to post then. Then Wednesday is a crazy day. I've been asked to speak at Career Day at a local high school and I have to be there really early in the morning. I also have to come up with a career. 😉
Have a great weekend! My goal is two more squares to show you when I get back. Thank you all!
L, C