Starting Thursday afternoon, when I first posted the beginning of my first ever miter, I knit miters the entire weekend ending about midnight last night. 20 miters in all. Five blocks. It's only the beginning. Not surprisingly, I found my voice – and there are lots of pictures and words to prove it. Skim if you like. Thank you.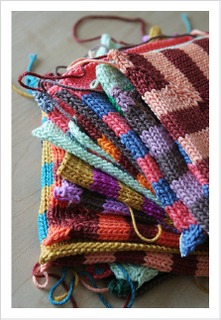 Okay. So this is what happened. Back in January, I got an email from WEBS saying that they had Tahki Cotton Classic grab bags on sale – it came out to like $2.50 a skein. I had never used TCC so I called Kay, who I know collects TCC the way I collect STR and asked if this was a good thing. She said it was a very good thing, so I bought three 10-skein grab bags and gave them the specifications Kay suggested: 1 bag warm brights, 1 bag cool brights, and 1 bag neutrals. All different please. Now, with a grab bag you are at the mercy of whoever's putting the bag together and whatever stock allows. When my yarn arrived, I realized I was a little light on the purples and reds, so I did what you all would've done and bought another 10-skein grab bag and asked for purples and reds. I got oranges and some pink, but that's okay. That's why they call it a grab bag.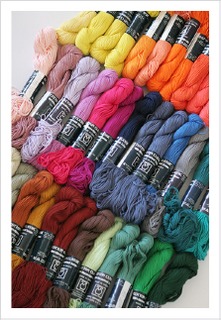 I bought the yarn, took a couple of pictures of it (see above) that I didn't really love and promptly put the yarn in a huge plastic bag and stuck it in the closet. Honestly, it was one of those things I needed to have but didn't have an idea about it. Another Log Cabin? Who knew? I just knew I needed the yarn and the price was good and that was that.
Fast forward a few weeks. I keep seeing these interesting ripple blankets and chevron scarves everywhere. I'm not going to crochet and I hate scarves, but the undulating color is appealing to me. Then, I go to my sister's for the weekend and I'm in my niece's room and she's playing with my hair (god I love having a niece!) and I'm looking around her room and I spy some of the swatches I gave to her so she could have blankets for her babies. Back in the old days, I'd make tons of swatches – I mostly knit blankets for other people (oh how the times have changed), in acrylic no less, and there are lots of leftovers. One of the blankets I made was a ripply chevrony blanket pattern that was my grandmother's – well – actually – it wasn't her pattern but she had used it to make blankets for all of us grandchildren. Mine was the first, I suspect, and it's quite boring in its color choices, but my sister's is inspired. I'll try to take a picture of it while I'm at her house next weekend. Anyway, I had made this blanket for a friend's daughter and had swatched a bit before I started knitting. This swatch had purple stripes. My niece wanted to know why I didn't make it bigger.
The swatch stuck with me and started niggling around in my brain while I was knitting away happily on the Katharine Hepburn Cardigan (which I WILL BE FINISHING) and on Thursday, when I was out of sorts, I thought – HUH! This could be a great use for my Tahki Cotton Classic. I'll knit an undulating ripple blanket in my grandmother's afghan pattern and how fantastic will that be!?! So I took out the yarn and chose two colors I didn't really care about – an orange that I had five skeins of and a bright yellow. I found my grandmother's pattern written on the back of a receipt and tucked away for safe keeping and tried to cast on. Not only couldn't I read my writing to get the pattern to work out but I started to cast on and got the stitch count wrong and then I thought forget it. But I had the cotton out and Kay's always talking about her miter love and I'd never knit a miter before….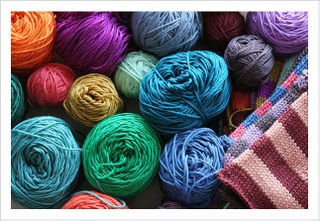 Quickly I took out my copy of Mason-Dixon Knitting – possibly FOR ME the single most influential knitting book I own – and turned to the miter page. I studied the pattern and my mind went a churning. Then I remembered that Kay had a no-sew miter thing going on so I went to investigate. Might as well get as much information under your belt before you start. While I was over there, reading the tutorial and thinking this probably isn't for me – I WAS STRUCK BY LIGHTNING. There was a square – a group of squares – in the no-sew miter that spoke to me on such a level I was instantly dumbstruck and foaming at the mouth. Muttering and silent. I was NUTS!
Then I remembered that I, myself, had photographed this stupendous mitered blanket before it was finished. I went and looked through my photographs.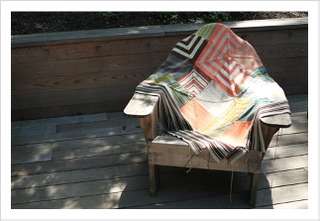 I did NOT knit this masterpiece. Kay did.
See that big orange square up in the right top? See it? THIS, my friends, is the secret to everything. Immediately the whole thing fell into place for me and I dumped that bag of glorious Tahki Cotton Classic color and started throwing things together.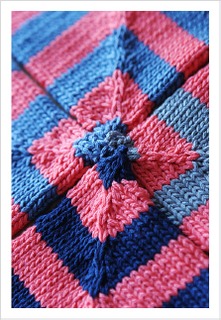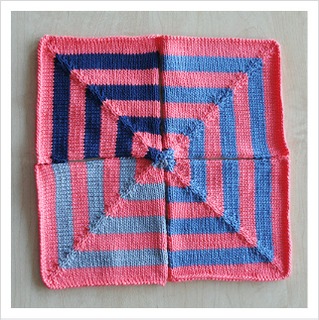 Square #1
My favorite thing about Kay and Ann's book is the whole thing about rules. Kay loves the rules. They rein you in and set you free all at the same time. So I made up some rules for my new mitered blanket. First off, there will be approximately 20 squares, made up of four miters, and they will each have a dominant color that runs through the square and keeps it cohesive. The four "background" colors may be in the same color family, a different family, I may use a background color more than once, I may have four different colors. The background is kind of like anything goes. I won't be sewing them up until I'm finished – I may throw out a square in the end, I may need to knit more.
Once that was settled, I began to knit: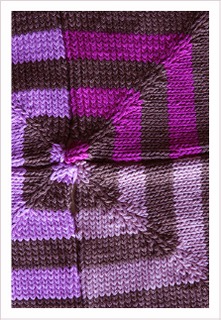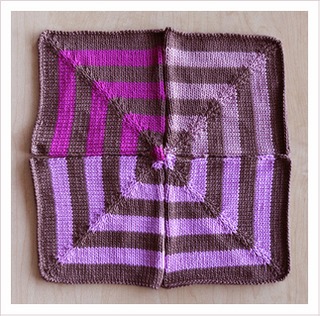 Square #2
And knit: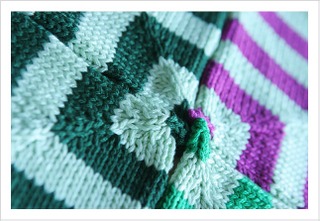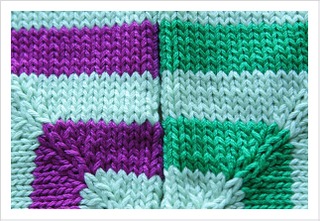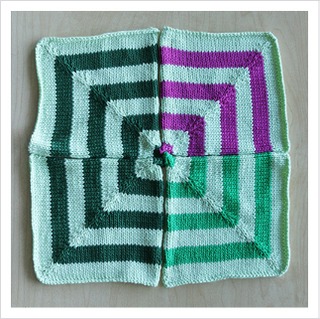 Square #3 – knit on St. Patrick's Day
And knit some more. (So my hand was cramping up before I went to bed Saturday night. So what?)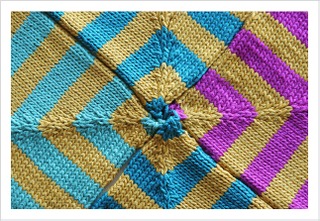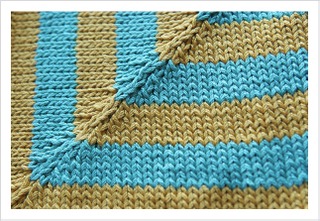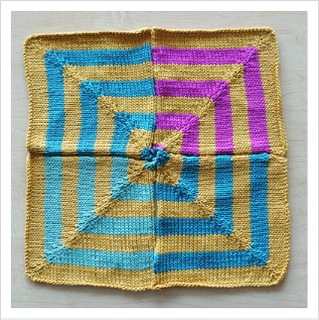 Square #4
At some point, I don't know whether it was Saturday or Sunday, my ass went numb from sitting on the couch. All the movies started to blur together (but I do remember that I REALLY like Daniel Craig as the new Bond. He's got that grittiness to him that's essential to Bond – they can't be TOO pretty, ie Moore and Brosnan) and I had scoured the internet looking for every color card of TCC I could find and promptly printed them all out and cross referenced them with the list I had put together in Excel of the colors I already had in my possession. I may or may not have left the house on Sunday to buy a HUMONGOUS GLASS VASE so that I could throw all of the half balls of TCC into it and let the colors mingle around together to find new and exciting combinations. I definitely bought another 17 colors. I am desperately in need of red.
I do know this: by Saturday night I had identified the fourth and fifth squares, started the fourth and thought I'd at least CAST ON for the fifth. Whatever.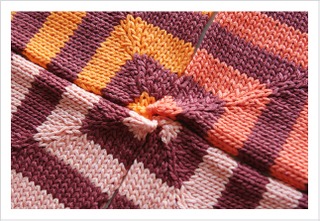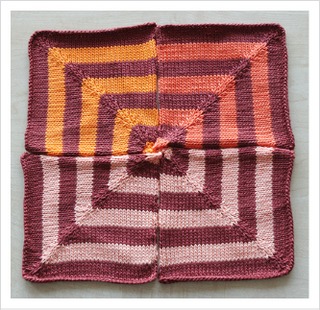 Square #5
Whew! I'm done for now – or at least until the new yarn comes. I've exhausted the color combinations I've got. I'm sure I could push them and find another few squares, but I'm mentally exhausted. I need to go back to the KH Cardigan – one color – for a little bit. Besides, I won't have a weekend like this one – where I don't have anything to do, really, for a long time I'm sure. But I've got it down that I can knit a miter, one quarter of a square, in under 90 minutes – three sitcoms – it's not going to take me long at all. I'm already 1/4 finished! And away we go….