Hey Nancy! This is for you!!! 😉
At 18:07:39 PM EDT, I handed back the keys to the minivan to my sister. The kids were a) all alive (I REPEAT – THEY WERE ALL ALIVE!!!!) b) fed (I won't say well fed unless you consider a steady diet of pasta, butter, pancakes and syrup healthy) and c) happy (well, as happy as they could be now that their favorite aunt was running for the hills with nary a kiss goodbye.)
Whew!
Honestly – we had a great time! We both miss the kids terribly and have talked about nothing else since we came home (remember when E did that? Remember when C said this? Remember how sweet M was when he helped out with that?) I always miss them when I leave – I love those kids so much it hurts sometimes – but I was weeping as we pulled off their street. I'm sure a lot of it had to do with exhaustion because, man, I have NEVER been so freaking tired in my LIFE. NEVER. EVER. NEVER. Bone crushing. That's how tired.
Let's refresh – three kids, 6, 4 and 2. Two childless adults, 37 and 44. Alone. For the weekend. We got down to my sister's Friday around lunch and my mom, who had the kids the night before, handed off the littlest and said SEE YA! We hung out with E for a bit and then headed off to pick up the big kids from school. All went well – I even made three different dinners for each of the kids – short order cook now on the resume – and they pretty much went to bed without a hitch! Of course, I didn't sleep for one second the entire first night. The baby co-sleeps with my sister, which means he was co-sleeping with G and I and the poor thing would semi-wake up crying for Mommy and thrashing about then stop suddenly and go back to sleep pretty much every hour. I think my big humongous EMPTY boobs were confusing him. Poor baby. And when he was sleeping, I was listening for the other kids – waiting for them to wake up and come into our room. They didn't. They slept. Kids 1, Me Comatose.
The next day was Saturday and I told G that this would be our hardest day because we had all three of them for the ENTIRE DAY by OURSELVES. It was overcast and drizzly and not very warm and I told him that WE MUST LEAVE THE HOUSE. I know from experience with my sister that three kids in the house the entire day is a like a death wish for the adults so we all piled into the minivan and headed off to The Franklin Institute. In restrospect, I was probably sleep walking to think we could pull this off and truly it's a testament to my sister and her husband and what great parents they are because these kids were fantastic. They didn't whine, they didn't cry, they didn't fight, they didn't run off – all was peaches and cream. We had a great time! And we tired them out! Everyone slept that night. Even me. This was the easiest day by far.
(OH MY GOD! How could I forget!! I gave them all baths on Saturday night. HAIR WASHING AND EVERYTHING! They were so good for me too. No one cried about rinsing out the shampoo! (Not that I'm patting myself on the back or anything. I should also note that I am extremely close with my sister and her kids. Closer than most, I think. ))
Sunday was a challenge – hebrew school by 9AM! Me, alone, with all the kids! Sweatpants under nightgowns and snow boots without socks! Superman pjs with cape! Oh NO! It's a dog in the parking lot! Everyone in Aunt Cara's arms! M got there ON TIME and he was dressed in actual clothes AND had breakfast!! Double points for Aunt Cara! Quick! Let's run home! Time to get dressed for the birthday party and pick up! No! You can't wear your nightgown snow boot combo! Hair combed! Teeth brushed! WHERE'S THE FREAKING PRESENT?!?! Birthday party pick-up complete! Time to go BACK to hebrew school! Where's G?! I SAID NOON! Run through the parking lot. There at 12:15 on the dot. M last kid picked up. Teacher says: See, I told you your Aunt wouldn't forget you! DAMN! Points deducted. Never pick up the kid last. Back home! LUNCH! (Who the hell came up with the three meal a day plan? They should be SHOT!) NAP! (Thank god!!!!) Birthday party girl arrives home! It's NICE OUT! Let's GO OUT! PLAYGROUND TIME! (Yes. G and I took all three kids to the playground. No broken bones. No bloody lips. No fistfights. 100 BONUS POINTS!!!) Come home. MORE OUTSIDE! Let's RIDE BIKES! Helmet won't fit over super curly hair. Tears. Lots of tears. Aunt Cara says fine. Don't wear the helmet. But if you fall over and crack your head I WILL NOT FORGIVE YOU! Tricycle breaks. Damn. Let's go in! DINNER! Pasta and butter AGAIN! Yes. You can watch a show. Turn show on. Do dishes (I did so many dishes!) KIDS ASLEEP!!!! IT'S ONLY 6:30!!! THEY HAVEN'T PEED AND THEY WILL WAKE UP IN THREE HOURS AND BE UP ALL NIGHT!!! You have no points left. YOU LOSE. Baby's about to fall asleep when you realize he hasn't pooped all weekend. He's a once a day kind of guy. Shit. LITERALLY! Change diaper THREE TIMES in 45 minutes. Big kids still sleeping. Baby finally asleep. Big kids wake up. Okay. Let's watch that movie you promised. Sorry, honey, it's too late. BUT YOU PROMISED!!! Kids are all in various beds – some of them their own – most of them not. OTHER sister shows up sometime in the middle of the night. Don't sleep so well. Hmmmm.
Monday, M had school and I was relieved a bit my other sister. She came down the night before and suprised the kids in the morning by managing to wake before noon. I took M to school (I PACKED A LUNCH! And wrote him a note – my mom always wrote us notes in our lunch bags) and came home to find my sister playing with the other two kids. Took five minutes to clean up the freaking kitchen AGAIN. And straighten up some toys. Sister leaves. Toddler melts down SPECTACULARLY! I made sure he couldn't hurt himself and let him go at it. Quite impressive. Finally he calmed down and we drove around in the minivan with a movie going for C and hoping the baby would fall asleep. He does, but doesn't make the transfer from the car to the bed. More melt downs. MY SISTER IS ON THE AIRPLANE HOME! Lots of TV that afternoon as I try to put the house back together. Pick up M from school. Twist ankle on front yard as kids climb through ivy and get stuck. Start crying. Scare kids. Love kids. MOM HOME!!!!
That was my weekend. How was yours?
I'm being sort of funny, but it was quite the weekend. G and I were stressed but we loved it too. We missed each other – I would see him and want to hug and cuddle but there were three kids on the couch between him and me and it was tough. He was a real trooper and the kids and he bonded which makes so happy. My sister and b-i-l got to get away. I proved to myself I'm much tougher than I think I am. We're all winners!!!!
I even got to knit. A little bit.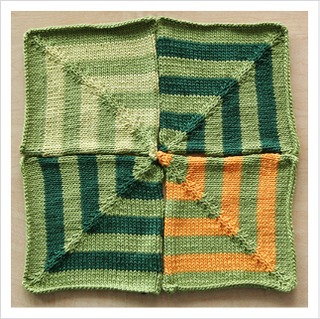 Square #6
I started this square right before I left for my sister's. I finished it this morning. I've already started the next one. This square was completely influenced by this post over at Ruth's. Ruth has been exploring color by taking photographs and breaking them down into their elemental colors. It's a great idea and I may just follow suit. I've got some flower pictures that might need to be broken down. Thanks for the inspiration Ruth!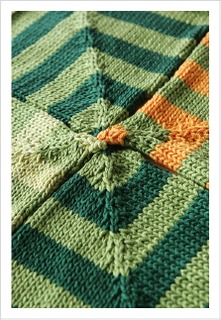 I wanted to thank you all again for your participation in the discussion on comments and blogs. I've seen the topic come up quite a bit around the blogs and everything I've seen remains thoughtful and respectful. That's no small task in this day and age where everything seems to break down to a toddler's level rather quickly among the adults in this world. I said it first! I said it best! I'm RIGHT! She's WRONG! It's NOT FAIR! Honestly, I didn't see any of that and I thank you so much. I hope we can have more give and take like this real soon. Thanks again for reading.
Up next: More miters! If you're sick of these, you might want to take a break from reading. That's about all you're going to get for a while, I'm afraid. Well, I'm not really afraid because I love them more and more each day, but you might be bored.
PS – I almost forgot! While I was being SUPER AUNT, I also managed to do an interview with Tara for Create A Connection and the Interview Tuesday series. Check out the site – there's lots of great stuff. Melba's done a great job putting it out there. Thanks girls!