About the only thing that could possibly make me feel better is this: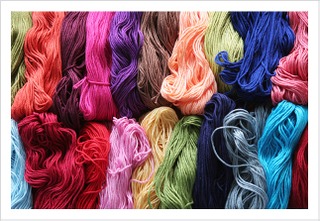 When I took to my bed yesterday, I wanted to knit. But not socks or the cardigan or any of the other half knit stuff I have laying around the house. I wanted to knit a mitered square. I really really REALLY wanted to knit a mitered square. So I laid out all the TCC I have and started moving colors around on the bed and I came up with a couple of possibilities but nothing I loved. And my head hurt so I told myself don't push it. Wait. Be patient. Today I was rewarded! One of my new batches of TCC arrived and I see a MILLION possibilities! I'm going to try to be good and get everything ready for the weekend and get some work out of the way and THEN I will be allowed to knit my miters. Only then. I might plan a few out before hand, might move some colors around, but NO KNITTING. No. I will be good. It's a very lucky thing that I have to watch those kids this weekend, or we all might be in trouble. You might find me Monday one very sick girl mumbling miter miter miter miter over and over again rocking back and forth with imaginary needles and imaginary yarn in hand. DUDES! WAIT! IDEA! I've never wanted to take LSD before, for fear I'd lose myself in some kind of psychedelic haze – but OH MY GOD! What if you could take LSD and KNIT MITERS?!?! Seriously. I haven't taken any cold medicine at all. I swear.
Before I sign off for the weekend, I wanted to sincerely thank you all for your comments on my post yesterday and especially over at Steph's. Thank you for the tremendous insight you left here, and over there, and thank you for being respectful. I promise you: I read EVERY SINGLE COMMENT left here. I even read the fucking spam comments. I may not be able to reply to every one, but I READ THEM. And I appreciate every one of you – whether you leave a comment or not. ETA: I have my blog set up so that every comment I get comes in as an email. This way it makes it easier for me to reply back to the commenter (when I can – I'm sorry I'm not better than I am.) You might want to check your blog to see if you have this setting – it makes communication so much easier!
Have a fantastic weekend!